November 07, 2011 -
Barry Dorey
NFP Top 25
The "Game of the Century" has come and gone, and Week 10 of the college football season is officially in the books.
We are down to five undefeated squads after LSU escaped Tuscaloosa with a victory over Alabama this past weekend. So which unbeaten is next to fall?
Let's take a look at how the National Football Post stacks up the Top 25 teams in the nation after the tenth week of the year.
2011 record in parentheses and last week's ranking in brackets.
1. LSU (9-0) [1]
2. Boise State (8-0) [3]
3. Oklahoma State (9-0) [4]
4. Stanford (9-0) [5]
5. Alabama (8-1) [2]
6. Oregon (8-1) [6]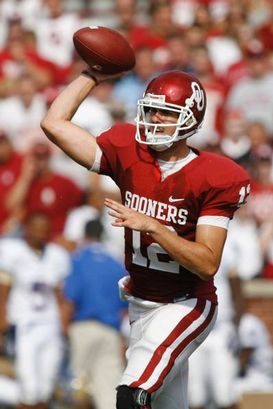 ICONQB Landry Jones and the Sooners will be without star WR Ryan Broyles for the rest of the season.
7. Oklahoma (8-1) [7]
8. Arkansas (8-1) [8]
9. Clemson (8-1) [10]
10. Virginia Tech (8-1) [11]
11. Houston (9-0) [13]
12. Georgia (7-2) [15]
13. Penn State (8-1) [16]
14. Michigan State (7-2) [17]
15. USC (7-2) [21]
16. South Carolina (7-2) [12]
17. Wisconsin (7-2) [20]
18. Kansas State (7-2) [14]
19. Nebraska (7-2) [9]
20. Georgia Tech (7-2) [22]
21. Cincinnati (7-1) [23]
22. Texas (6-2) [NR]
23. Arizona State (6-3) [18]
24. TCU (7-2) [NR]
25. Southern Miss (8-1) [NR]
Email dave.miller@nationalfootballpost.com or follow me on Twitter at Miller_Dave