September 12, 2011 -
Dave Miller
NFP Top 25
The 2011 season has already been crazy — and we're only two weeks in.
Georgia and Notre Dame are 0-2, Auburn once again played in one of the most exciting games of the week and a couple of major programs averted huge upsets.
Let's take a look at how the National Football Post stacks up the Top 25 teams in the nation after the second week of the year.
2011 record in parentheses and last week's ranking in brackets.
1. LSU (2-0) [1]
WON 49-3 vs. Northwestern State
The Tigers received two touchdowns apiece from running backs Michael Ford and Spencer Ware in the easy win.
2. Oklahoma (1-0) [2]
IDLE
The Sooners had the week off and will face Florida State in Tallahassee on Saturday.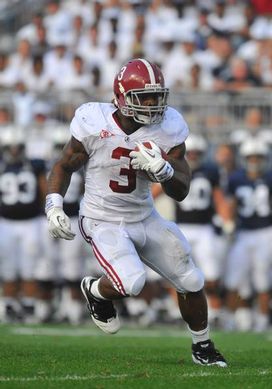 ICONTrent Richardson and the Crimson Tide beat Penn State for the second year in a row.
3. Alabama (2-0) [3]
WON 27-11 at Penn State
Trent Richardson recorded 26 carries for 111 yards and two touchdowns as the Crimson Tide beat Penn State in Happy Valley.
4. Boise State (1-0) [4]
IDLE
The Broncos had the week off after beating Georgia and will play at Toledo on Friday.
5. Florida State (2-0) [5]
WON 62-10 vs. Charleston Southern
The Seminoles amassed 647 yards of total offense while holding Charleston Southern to 84 yards in the romp.
6. Oklahoma State (2-0) [6]
WON 37-14 vs. Arizona
Brandon Weeden completed his first 13 passes and 22 of his first 23 en route to 397 passing yards and two touchdowns as the Cowboys defeated Arizona in a rematch of last year's Alamo Bowl.
7. Virginia Tech (2-0) [7]
WON 17-10 at East Carolina
Josh Oglesby scored the go-ahead 10-yard score as Frank Beamer won his 200th game at Virginia Tech.
8. Nebraska (2-0) [8]
WON 42-29 vs. Fresno State
Ameer Abdullah returned a kickoff 100 yards for a score as the Cornhuskers survived against Fresno State in Lincoln.
9. Arkansas (2-0) [9]
WON 52-3 vs. New Mexico
Tyler Wilson threw for 259 yards and accounted for two touchdowns as the Razorbacks rolled against the Lobos.
10. Oregon (1-1) [10]
WON 69-20 vs. Nevada
Darron Thomas threw six touchdowns on just 19 pass attempts as the Ducks bounced back from their opening loss to LSU.
11. Stanford (2-0) [11]
WON 44-14 at Duke
Andrew Luck matched a career high by throwing four touchdown passes in Stanford's rout of the Blue Devils.
12. Texas A&M (1-0) [12]
IDLE
The Aggies host Idaho on Saturday after having a bye this past week.
13. South Carolina (2-0) [13]
WON 45-42 at Georgia
Defensive lineman Melvin Ingram scored on a fake punt and on a fumble recovery to help the Gamecocks beat the Bulldogs in Athens.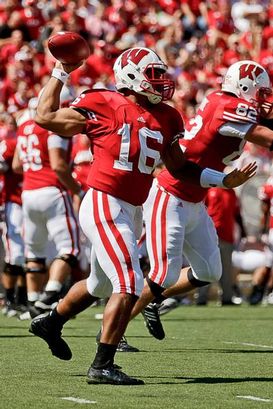 ICONRussell Wilson and the Badgers are clicking on all cylinders.
14. Wisconsin (2-0) [16]
WON 35-0 vs. Oregon State
Russell Wilson was 17 of 21 for 189 yards and three touchdowns in the Badgers' victory over the Beavers.
15. Michigan State (2-0) [17]
WON 44-0 vs. Florida Atlantic
Michigan State held FAU to one first down in a 44-0 victory over the Owls.
16. Ohio State (2-0) [14]
WON 27-22 vs. Toledo
Ohio State's 43-0-1 run against in-state foes since 1921 was almost stopped by the Rockets, but the Buckeyes held on for the victory.
17. West Virginia (2-0) [18]
WON 55-12 vs. Norfolk State
The Mountaineers racked up 533 total yards and scored on their first seven possessions of the second half to erase a 12-10 halftime deficit against Norfolk State.
18. Florida (2-0) [19]
WON 39-0 vs. UAB
The Gators ran for 299 yards as nine players received at least one carry in the win.
19. Auburn (2-0) [20]
WON 41-34 vs. Mississippi State
Auburn won its 17th straight game — the longest active FBS streak — as the Tigers outscored the Bulldogs.
20. USC (2-0) [21]
WON 23-14 vs. Utah
Marc Tyler rushed for 113 yards and a touchdown in his return from suspension, and Robert Woods had eight catches for 102 yards in USC's win over Utah — the first game in the new Pac-12.
21. Mississippi State (1-1) [15]
LOST 41-34 at Auburn
Chris Relf was stopped short of the goal line on the final play to keep the Bulldogs from potentially forcing overtime against the Tigers.
22. Maryland (1-0) [23]
IDLE
Randy Edsall's squad was off this past week and will host West Virginia on Saturday.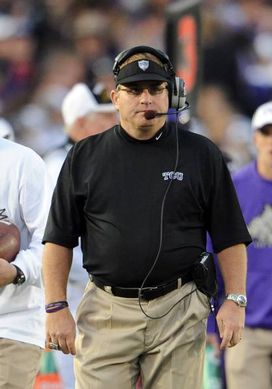 ICONGary Patterson's Horned Frogs bounced back from their opening loss to Baylor.
23. TCU (1-1) [24]
WON 35-19 at Air Force
TCU's 18th straight win in the Mountain West in its last year in the league tied the record set by BYU from 2006-08.
24. North Carolina (2-0) [25]
WON 24-22 vs. Rutgers
Bryn Renner was 20 of 26 for 273 yards and a touchdown for North Carolina, but he threw three interceptions in the nail-biter.
25. Arizona State (2-0) [NR]
WON 37-30 OT vs. Missouri
Aaron Pflugrad caught eight passes for a career-high 180 yards and a pair of touchdowns as Arizona State finished with 492 yards to beat a ranked opponent for the first time in its past 11 tries.
On the cusp: Northwestern, Texas, South Florida, Baylor and Missouri
Email dave.miller@nationalfootballpost.com or follow me on Twitter at Miller_Dave