November 18, 2012 -
Dave Miller
NFP Top 25
Week 12 of the 2012 college football season is in the books, and the BCS national championship picture became even more clear as two of the unbeatens fell on Saturday, leaving Notre Dame as the lone undefeated wolf (besides Ohio State, which is ineligible for the postseason).
Top-ranked Oregon fell at home to Stanford, while Kansas State was outplayed and throttled by Baylor in Waco. It would now appear that the Fighting Irish would play the winner of the SEC title game if the Irish could knock off USC next week.
Let's take a look at how the National Football Post stacks up the Top 25 heading into the thirteenth week of the season.
2012 record in parentheses and last week's ranking in brackets.
1. Notre Dame (11-0) [3]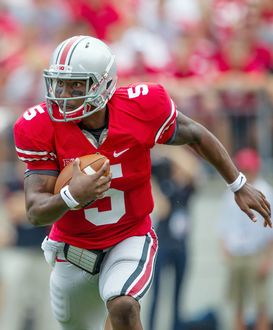 US PRESSWIREBraxton Miller and the Buckeyes are one win away from finishing the season unbeaten.
2. Ohio State (11-0) [4]
3. Alabama (10-1) [5]
4. Oregon (10-1) [1]
5. Florida State (10-1) [6]
6. Kansas State (10-1) [2]
7. Georgia (10-1) [7]
8. Florida (10-1) [8]
9. Clemson (10-1) [9]
10. LSU (9-2) [10]
11. Stanford (9-2) [12]
12. Texas A&M (9-2) [13]
CONTINUE TO PAGE 2 FOR NOS. 13-25