November 08, 2010 -
Dave Miller
NFP Top 25
We will have a new BCS champion when the trophy is awarded in Glendale this coming January.
Alabama's reign as the best team in college football is over.
With the Crimson Tide's loss to LSU on Saturday, the previously strongest one-loss team is out in the race for one of the coveted spots in the BCS title game. With the month of November in full swing, four undefeated teams remain — Oregon, Auburn, TCU and Boise State.
But which one is the best of them all?
Here's a look at how the National Football Post stacks up the Top 25 teams in the nation heading into Week 11 of the season.
2010 record in parentheses and last week's ranking in brackets.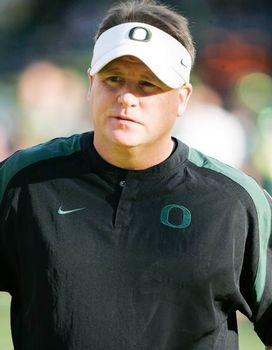 ICONChip Kelly's Ducks remain at No. 1
1. Oregon (9-0) [1]
WON 53-16 vs. Washington
The Ducks won their seventh in a row over the Huskies — all being by 20 or more points — as LaMichael James enjoyed his fifth straight multi-touchdown game.
2. Boise State (8-0) [2]
WON 42-7 vs. Hawaii
Kellen Moore threw for a career-high 507 yards as Boise State extended the FBS' longest active win streak to 22 games and 33 regular-season games.
3. TCU (10-0) [3]
WON 47-7 at Utah
TCU's 40-point victory over Utah was the second-largest margin in a regular season game between two top 5 BCS teams.
4. Auburn (10-0) [4]
WON 62-24 vs. Chattanooga
Auburn scored 48 points in the first half against the Mocs — the second-most it has scored in a half (the record is 49, also against Chattanooga in 1995).
5. LSU (8-1) [9]
WON 24-21 vs. Alabama
LSU improved to 15-1 under Les Miles after a defeat, as the Tigers remained in the SEC West race with the win.
6. Stanford (8-1) [10]
WON 42-17 vs. Arizona
Running back Stepfan Taylor ran for four scores — outscoring Arizona by himself — as Stanford matched its win total from last season and snapped Arizona's five-game road winning streak.
7. Wisconsin (8-1) [7]
WON 34-13 at Purdue
Montee Ball rushed for a career-high 127 yards and two touchdowns to lead the Badgers past the Boilermakers for the fifth straight time.
8. Ohio State (8-1) [11]
IDLE
The Buckeyes were off this past weekend and will host Penn State next Saturday.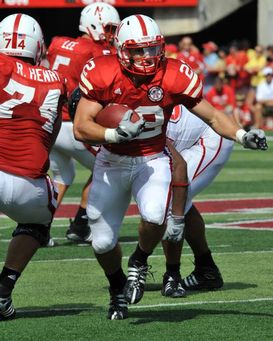 ICONNebraska RB Rex Burkhead piled up a career-high 129 yards and scored two touchdowns Saturday.
9. Nebraska (8-1) [12]
WON 31-30 at Iowa State
Rex Burkhead ran for a career-high 129 yards and scored two touchdowns to help the Cornhuskers barely hang on in Ames.
10. Michigan State (9-1) [15]
WON 31-8 vs. Minnesota
Edwin Baker had 179 rushing yards and four touchdowns to lead the Spartans past the Gophers.
11. Oklahoma State (8-1) [20]
WON 55-28 vs. Baylor
The Cowboys improved to 11-1 against the Bears since 1999, and Oklahoma State won for the 26th time since 2008 — tying the school record for most wins in a three-year span.
12. Alabama (7-2) [5]
LOST 24-21 at LSU
Alabama lost a game in the SEC West for the first time since 2007, ending a streak of 12 straight wins.
13. Iowa (7-2) [14]
WON 18-13 at Indiana
Hawkeyes head coach Kirk Ferentz picked up his 100th career coaching victory, as Iowa won despite failing to score a touchdown in four trips to the red zone.
14. Arkansas (7-2) [18]
WON 41-20 at South Carolina
Ryan Mallett threw for 303 yards and a score — the 17th time in 34 games that the Razorbacks have thrown for at least 300 yards since Bobby Petrino became head coach.
15. Utah (8-1) [6]
LOST 47-7 vs. TCU
The Utes were held to 11 first downs and just 199 total yards in the thrashing at the hands of the Horned Frogs.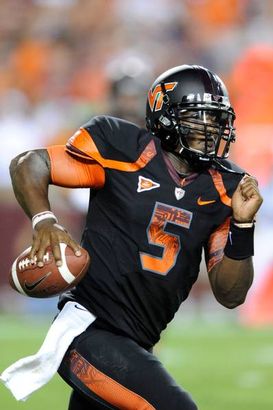 ICONQB Tyrod Taylor and the Hokies are rolling.
16. Virginia Tech (7-2) [19]
WON 28-21 vs. Georgia Tech
David Wilson returned a kickoff 90 yards for a touchdown with 2:23 to play, and the Hokies held on for the victory over the Yellow Jackets.
17. Oklahoma (7-2) [8]
LOST 33-19 at Texas A&M
The Sooners lost on the road for the second time in less than a month, as OU's seven-game winning streak against the Aggies was snapped.
18. Mississippi State (7-2) [21]
IDLE
The Bulldogs had the weekend off and will travel to Tuscaloosa to take on the Crimson Tide next weekend.
19. Arizona (7-2) [13]
LOST 42-17 at Stanford
The Wildcats allowed more than 29 points for the first time this season in their loss to Stanford.
20. Missouri (7-2) [16]
LOST 24-17 at Texas Tech
Blaine Gabbert completed just 12 of 30 passes for 95 yards as the Tigers lost their second straight contest.
21. Nevada (8-1) [25]
WON 63-17 at Idaho
Colin Kaepernick threw for 320 yards and five scores as Nevada beat Idaho for the sixth straight time.
22. Texas A&M (6-3) [NR]
WON 33-19 vs. Oklahoma
Aggies running back Cyrus Gray ran 112 yards and a score as A&M earned its first win over a ranked team since defeating Texas in 2007.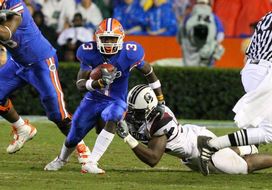 ICONThe return of Chris Rainey has helped spark the Gators.
23. Florida (6-3) [NR]
WON 55-14 at Vanderbilt
Chris Rainey blocked two punts and caught a 40-yard touchdown pass from John Brantley as the Gators easily beat the Commodores.
24. South Carolina (6-3) [17]
LOST 41-20 vs. Arkansas
Despite the loss to the Razorbacks, the Gamecocks can win the SEC East with a victory at Florida next week.
25. Central Florida (7-2) [NR]
WON 40-33 at Houston
Jeff Godfrey threw for 294 yards and two touchdowns and rushed for 105 more with a score on the ground as UCF beat Houston on the road.
Email dave.miller@nationalfootballpost.com or follow me on Twitter at Miller_Dave