November 20, 2011 -
Barry Dorey
NFP Top 25
Who said this weekend was going to be boring and drama-free?
Week 12 of the college football season is officially in the books, and the BCS standings have certainly been shaken up due to a plethora of upsets and wild finishes.
Oklahoma State, once in the driver's seat for a trip to New Orleans for the BCS national championship game, was stunned at Iowa State on Friday night. One night later, in-state rival Oklahoma suffered its second loss of the season, unable to withstand another stellar performance from Baylor quarterback Robert Griffin III.
Meanwhile, in Eugene, Oregon lost its chance to remain in the title picture as the Ducks' second-half rally fell short against Matt Barkley and USC. And Clemson just didn't show up against an N.C. State team that had been overmatched all season.
One day early (I couldn't wait until Monday morning), let's take a look at how the National Football Post stacks up the Top 25 teams in the nation after the twelfth week of the year.
2011 record in parentheses and last week's ranking in brackets.
1. LSU (11-0) [1]
2. Alabama (10-1) [4]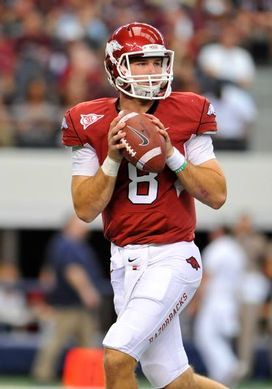 ICONTyler Wilson and the Hogs check in at No. 3 in the latest rankings.
3. Arkansas (10-1) [6]
4. Oklahoma State (10-1) [2]
5. Stanford (10-1) [8]
6. Virginia Tech (10-1) [9]
7. Houston (11-0) [10]
8. Boise State (9-1) [11]
9. USC (9-2) [14]
10. Georgia (9-2) [12]
11. Oregon (9-2) [3]
12. Oklahoma (8-2) [5]
13. Michigan State (9-2) [13]
14. South Carolina (9-2) [15]
15. Wisconsin (9-2) [16]
16. Kansas State (9-2) [17]
17. Clemson (9-2) [7]
18. TCU (9-2) [19]
19. Penn State (9-2) [20]
20. Michigan (9-2) [22]
21. Baylor (7-3) [NR]
22. Notre Dame (8-3) [24]
23. Virginia (8-3) [NR]
24. Georgia Tech (8-3) [25]
25. Nebraska (8-3) [18]
Email dave.miller@nationalfootballpost.com or follow me on Twitter at Miller_Dave