November 04, 2012 -
Dave Miller
NFP Top 25
Week 10 of the 2012 college football season is in the books, and the BCS national championship picture remains a little foggy as we prepare for the second Saturday in November.
Alabama took care of business against LSU in their SEC West showdown, Oregon outraced USC, Kansas State defeated Oklahoma State and Notre Dame escaped Upset City against Pittsburgh. Those four teams remain unbeaten.
Let's take a look at how the National Football Post stacks up the Top 25 heading into the eleventh week of the season.
2012 record in parentheses and last week's ranking in brackets.
1. Alabama (9-0) [1]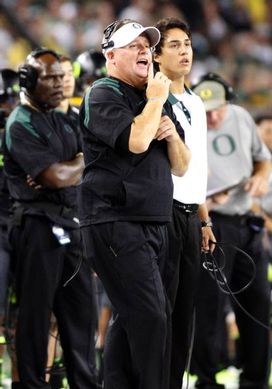 US PRESSWIREChip Kelly's Ducks are the best in the West.
2. Oregon (9-0) [2]
3. Kansas State (9-0) [3]
4. Notre Dame (9-0) [4]
5. Ohio State (10-0) [6]
6. Florida State (8-1) [7]
7. Georgia (8-1) [8]
8. Florida (8-1) [9]
9. Clemson (8-1) [10]
10. Louisville (9-0) [11]
11. LSU (7-2) [5]
12. Oregon State (7-1) [12]
CONTINUE TO PAGE 2 FOR NOS. 13-25