October 03, 2011 -
Barry Dorey
NFP Top 25
Week 5 of the college football season is in the books, and Wisconsin let the nation know that it truly is an elite team. Nebraska, meanwhile, needs to rekindle its Blackshirt mentality — and turn Taylor Martinez into a passing threat.
Alabama took care of Florida after a rough start, Virginia Tech failed to live up to my lofty expectations and Texas A&M let yet another game slip away.
Let's take a look at how the National Football Post stacks up the Top 25 teams in the nation after the fifth week of the year.
2011 record in parentheses and last week's ranking in brackets.
1. LSU (5-0) [1]
2. Oklahoma (4-0) [2]
3. Alabama (5-0) [3]
4. Boise State (4-0) [4]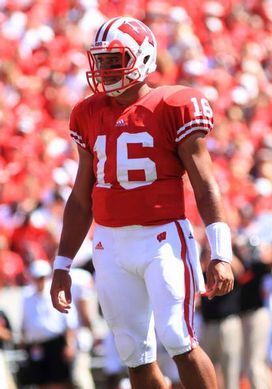 ICONRussell Wilson leads a Wisconsin offensive machine.
5. Wisconsin (5-0) [8]
6. Oklahoma State (4-0) [5]
7. Stanford (4-0) [9]
8. Oregon (3-1) [10]
9. Clemson (5-0) [15]
10. Texas (4-0) [13]
11. Arkansas (4-1) [16]
12. Virginia Tech (4-1) [6]
13. Nebraska (4-1) [7]
14. Georgia Tech (5-0) [19]
15. Auburn (4-1) [NR]
16. South Carolina (4-1) [11]
17. Florida (4-1) [12]
18. Illinois (5-0) [23]
19. West Virginia (4-1) [21]
20. Texas A&M (2-2) [14]
21. Michigan State (4-1) [24]
22. Florida State (2-2) [22]
23. Arizona State (4-1) [25]
24. Kansas State (4-0) [NR]
25. Georgia (3-2) [NR]
Email dave.miller@nationalfootballpost.com or follow me on Twitter at Miller_Dave