November 15, 2010 -
Dave Miller
NFP Top 25
Oregon was close to going down Saturday night at Cal, but the Ducks continued their march toward Glendale with a 15-13 win over the Golden Bears. Auburn also held serve in its SEC West-clinching win over Georgia, led by Heisman Trophy candidate and still-eligible Cam Newton.
The two standout non-AQ's? They remained unbeaten, as well, but they took different routes to stay unscathed.
So with another weekend in November in the books, four undefeated teams remain — Oregon, Auburn, TCU and Boise State.
Here's a look at how the National Football Post stacks up the Top 25 teams in the nation heading into Week 12 of the season.
2010 record in parentheses and last week's ranking in brackets.
1. Oregon (10-0) [1]
WON 15-13 at Cal
The Ducks' offense was finally slowed, but Cal kicker Giorgio Tavecchio missed a 29-yard field goal that was a potential game-winner to keep Chip Kelly's squad unbeaten.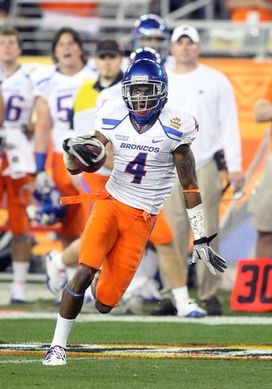 ICONTitus Young and the Broncos remain at No. 2 behind Oregon.
2. Boise State (9-0) [2]
WON 52-14 at Idaho
Boise State hasn't trailed in a game since the fourth quarter of its Week 1 contest against Virginia Tech.
3. Auburn (11-0) [4]
WON 49-31 vs. Georgia
Cam Newton became the eighth player to throw for 2,000 yards and rush for 1,000 yards in a season as the Tigers clinched the SEC West with their win over the Bulldogs.
4. TCU (11-0) [3]
WON 40-35 vs. San Diego State
TCU's defense gave up the most points it has in a single game this year and held off an Aztecs rally to remain undefeated.
5. LSU (9-1) [5]
WON 51-0 vs. Louisiana-Monroe
LSU won its 27th straight vs. in-state opponents with a victory over the Warhawks.
6. Stanford (9-1) [6]
WON 17-13 at Arizona State
Andrew Luck threw for 292 yards and led a long fourth-quarter scoring drive to set up Owen Marecic's second 1-yard touchdown, lifting the Cardinal past the Sun Devils in a defensive struggle.
7. Wisconsin (9-1) [7]
WON 83-20 vs. Indiana
Montee Ball rushed for three touchdowns in his first career start, James White ran for two more and Scott Tolzien threw for three as the Badgers embarrassed the Hoosiers.
8. Ohio State (9-1) [8]
WON 38-14 vs. Penn State
The Buckeyes responded to a 14-3 halftime deficit with two interception returns for touchdowns in the second half to cruise past the Nittany Lions.
9. Nebraska (9-1) [9]
WON 20-3 vs. Kansas
The Cornhuskers had a 397-87 advantage in total yards and held the Jayhawks to just 15 passing yards in the win.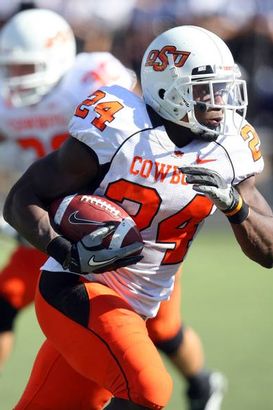 ICONKendall Hunter and the Pokes have entered the top 10.
10. Oklahoma State (9-1) [11]
WON 33-16 at Texas
The Cowboys won their fourth straight road games for the first time since 1985 as they beat the Longhorns in Austin.
11. Michigan State (9-1) [10]
IDLE
The Spartans were idle this past weekend and host Purdue next Saturday.
12. Alabama (8-2) [12]
WON 30-10 vs. Mississippi State
Greg McElroy threw for 227 yards, including a 78-yard touchdown to Mark Ingram, and the Crimson Tide rolled over the Bulldogs.
13. Arkansas (8-2) [14]
WON 58-21 vs. UTEP
Ryan Mallett had his second career game with five touchdowns and no interceptions, and the Razorbacks improved to 8-2 — their best 10-game record since 2006.
14. Virginia Tech (8-2) [16]
WON 26-10 at North Carolina
The Hokies pitched a shutout in the second half after trailing by a point at the half, and their eight-game win streak is the team's longest since 2005.
15. Oklahoma (8-2) [17]
WON 45-7 vs. Texas Tech
Ryan Broyles caught three touchdowns and now has 32 for his career — most scoring receptions in school history — to lead the Sooners.
16. Missouri (8-2) [20]
WON 38-28 vs. Kansas State
The Tigers won for the fifth straight time against the Wildcats and picked up their eighth win of the season, giving Mizzou five straight seasons with at least eight victories.
17. South Carolina (7-3) [24]
WON 36-14 at Florida
The Gamecocks beat the Gators for just the second time since 1939 to claim the SEC East in a successful return for the Head Ball Coach at The Swamp.
18. Texas A&M (7-3) [22]
WON 42-30 at Baylor
Cyrus Gray rushed for 137 yards and four scores — his fourth straight 100-yard rushing game — to lead the Aggies past the Bears.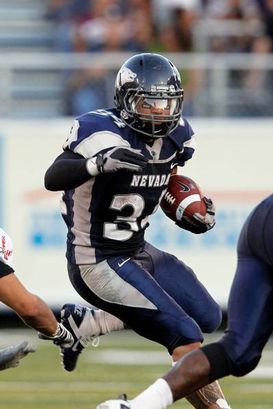 ICONCan Vai Taua and Nevada give Boise a game when the WAC powers meet?
19. Nevada (9-1) [21]
WON 35-34 at Fresno State
Vai Taua ran for three touchdowns and Nevada defeated Fresno for the third straight time — the first time since 1945-49.
20. Iowa (7-3) [13]
LOST 21-17 at Northwestern
Iowa head coach Kirk Ferentz has a losing record against only two Big Ten teams — Northwestern and Ohio State. After the Hawkeyes lost their fifth in the last six meetings to the Wildcats, they host the Buckeyes next week.
21. Mississippi State (7-3) [18]
LOST 30-10 at Alabama
The Bulldogs had their six-game winning streak snapped despite holding the Crimson Tide's rushing attack in check.
22. USC (7-3) [NR]
WON 24-21 at Arizona
Mark Tyler rushed for a career-high 160 yards and a score, and the Trojans recovered a late onside kick to hold off the Wildcats.
23. Arizona (7-3) [19]
LOST 24-21 vs. USC
The Wildcats lost to the Trojans for the eighth time in the last nine meetings and for the fifth straight time in Tucson.
24. Utah (8-2) [15]
LOST 28-3 at Notre Dame
The Utes have lost two straight and been outscored 75-10 in that span. It's the first time since September 1990 that Utah has been held under 10 points in consecutive games.
25. Florida State (7-3) [NR]
WON 16-13 vs. Clemson
A week after missing a game-winning kick in the final seconds, Dustin Hopkins booted a career-best 55-yard field goal to give the Seminoles the win over the Tigers.
Email dave.miller@nationalfootballpost.com or follow me on Twitter at Miller_Dave