September 27, 2010 -
Dave Miller
NFP Top 25
A look at how the National Football Post stacks up the Top 25 teams in the nation heading into Week 5 of the season.
2010 record in parentheses and last week's ranking in brackets.
1. Alabama (4-0) [1]
WON 24-20 at Arkansas
The Crimson Tide rallied from a 13-point deficit against Arkansas to maintain its spot as the best in the SEC West.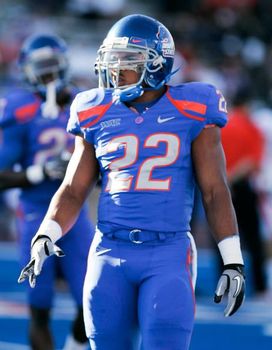 ICONBoise State RB Doug Martin gained 138 yards on 19 carries against Oregon State.
2. Boise State (3-0) [2]
WON 37-24 vs. Oregon State
By beating Oregon State, the Broncos moved to 6-1 against BCS-conference teams over the last four seasons and may have cleared the last hurdle in their quest for an undefeated season.
3. TCU (4-0) [3]
WON 41-24 at SMU
Trailing in the second half for the first time this season, the Horned Frogs scored 21 straight points to move to 4-0 for the third straight year.
4. Ohio State (4-0) [6]
WON 73-20 vs. Eastern Michigan
Dane Sanzenbacher caught four touchdown passes and the Buckeyes finished with their most points since 1950 in a rout of the Eagles.
5. Nebraska (4-0) [4]
WON 17-3 vs. South Dakota State
Taylor Martinez certainly played like a freshman quarterback, but the Cornhuskers survived his two interceptions and his inaccurate throws to beat the Jackrabbits.
6. Oregon (4-0) [7]
WON 42-31 at Arizona State
The Ducks forced seven turnovers and extended their winning streak over the Sun Devils to six games.
7. Oklahoma (4-0) [5]
WON 31-29 at Cincinnati
Landry Jones enjoyed his fifth career 300-yard game and set a career high with 36 completions to help the Sooners hold off the Bearcats.
8. Florida (4-0) [8]
WON 48-14 vs. Kentucky
Freshman Trey Burton became the first FBS player with at least five rushing TDs and one TD reception in a single game since West Virginia's Steve Slaton in 2005 as the Gators rocked the Wildcats.
9. Auburn (4-0) [9]
WON 35-27 vs. South Carolina
True freshman Michael Dyer rushed for 100 yards and Cam Newton accounted for five touchdowns as the Tigers beat the Gamecocks for the fifth straight time.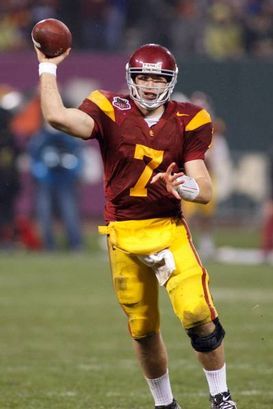 ICONUSC QB Matt Barkley threw for 290 yards and 3 scores against Washington State.
10. USC (4-0) [11]
WON 50-16 at Washington State
The Trojans gained 285 yards on the ground and averaged 7.3 yards per rush in their conference opener.
11. Wisconsin (4-0) [12]
WON 70-3 vs. Austin Peay
Freshman James White rushed for 145 yards and four scores as the Badgers thrashed the Governors.
12. Arizona (4-0) [14]
WON 10-9 vs. California
Juron Criner battled through a turf toe injury to score the game's lone touchdown and help the Wildcats escape the Golden Bears.
13. LSU (4-0) [19]
WON 20-14 vs. West Virginia
Patrick Peterson put himself squarely in the Heisman conversation with a 60-yard punt return for a touchdown as the Tigers dealt the Mountaineers their first loss.
14. Utah (4-0) [17]
WON 56-3 vs. San Jose State
Quarterback Jordan Wynn returned after missing two games with a thumb sprain and threw for two touchdowns as the Utes routed San Jose State.
15. Stanford (4-0) [20]
WON 37-14 at Notre Dame
The Cardinal defeated Notre Dame a second straight season for the first time in the history of the series.
16. Arkansas (3-1) [13]
LOST 24-20 vs. Alabama
Ryan Mallett threw costly fourth-quarter interceptions and the Razorbacks couldn't hold onto a 13-point lead over the defending national champs.
17. Iowa (3-1) [18]
WON 45-0 vs. Ball State
Ricky Stanzi threw for 288 yards and three touchdowns as the Hawkeyes bounced back from their loss last week to Arizona.
18. South Carolina (3-1) [16]
LOST 35-27 at Auburn
Alshon Jeffery had eight catches for a career-high 192 yards, but the Gamecocks turned the ball over four times in the fourth quarter against Auburn.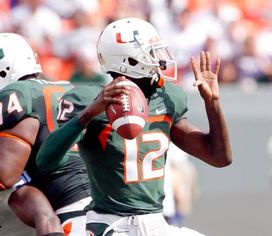 ICONQB Jacory Harris led the Hurricanes to a rout of Pittsburgh last Thursday night.
19. Miami (2-1) [22]
WON 31-3 at Pittsburgh
The Hurricanes' defense limited the Panthers to just 11 first downs and 232 total yards while forcing three turnovers.
20. Michigan State (4-0) [21]
WON 45-7 vs. Northern Colorado
Kirk Cousins threw for 290 yards and two touchdowns, and the Spartans had no problem taking care of the Bears without head coach Mark Dantonio.
21. West Virginia (3-1) [15]
LOST 20-14 at LSU
Noel Devine was held to just 37 yards on 14 carries against the tough LSU defense.
22. Michigan (4-0) [25]
WON 65-21 vs. Bowling Green
Even an injury to Denard Robinson couldn't stop the Wolverines in a rout of the Falcons.
23. Texas (3-1) [10]
LOST 34-12 vs. UCLA
Four first-half turnovers never gave the Longhorns much of a chance against the suddenly resurgent Bruins.
24. Clemson (2-1) [23]
IDLE
Clemson had a week off after its heartbreaking loss to Auburn. Up next: a home date with Miami.
25. Nevada (4-0) [NR]
WON 27-13 at BYU
Colin Kaepernick threw for 196 yards and a touchdown and ran for 82 yards and another score as the Wolf Pack beat the Cougars.
Follow me on Twitter at Miller_Dave or send your college football questions to dave.miller@nationalfootballpost.com
Click here to win cash today playing fantasy football with the NFP and FanDuel.