October 11, 2010 -
Dave Miller
NFP Top 25
A look at how the National Football Post stacks up the Top 25 teams in the nation heading into Week 7 of the season.
2010 record in parentheses and last week's ranking in brackets.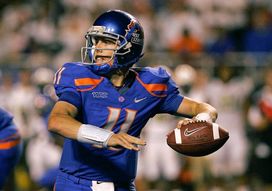 ICONBoise State QB Kellen Moore
1. Boise State (5-0) [2]
WON 57-14 vs. Toledo
The Broncos won their sixth straight game against a MAC team, holding Toledo to just 65 rushing yards.
2. TCU (6-0) [3]
WON 45-0 vs. Wyoming
Andy Dalton notched his 35th win as a starting quarterback, the most among active FBS quarterbacks.
3. Oregon (6-0) [4]
WON 43-23 at Washington State
The Ducks racked up 558 total yards and moved to 6-0 for the first time since 2002.
4. Ohio State (6-0) [5]
WON 38-10 vs. Indiana
Terrelle Pryor passed for a career-high 334 yards and three touchdowns as the Buckeyes beat the Hoosiers for the 16th straight time.
5. Nebraska (5-0) [6]
WON 48-13 at Kansas State
Taylor Martinez rushed for 241 yards — the most by a quarterback and eighth-most in a single game in Nebraska history — as the Cornhuskers easily beat Kansas State.
6. Oklahoma (5-0) [7]
IDLE
Fresh off of its bye week, Oklahoma will host Iowa State on Saturday.
7. Auburn (6-0) [8]
WON 37-34 at Kentucky
Cam Newton rushed for 200 yards and four touchdowns — all four in the first half — as the Tigers are 6-0 for the first time since 2004.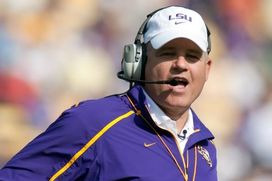 ICONLSU head coach Les Miles
8. LSU (6-0) [10]
WON 33-29 at Florida
LSU used a successful fake field goal to set up a 3-yard touchdown pass with 6 seconds left to beat the Gators on the road.
9. South Carolina (4-1) [18]
WON 35-21 vs. Alabama
The Gamecocks used a brilliant day from Stephen Garcia and a stellar rush defense to knock off the defending national champion Crimson Tide.
10. Alabama (5-1) [1]
LOST 35-21 at South Carolina
The defending national champion Crimson Tide lost for the first time since falling to Utah in the Sugar Bowl after the 2008 season.
11. Utah (5-0) [11]
WON 68-27 at Iowa State
The Utes scored 31 unanswered points in the second quarter and overcame an early 14-10 deficit to thrash the Cyclones.
12. Arkansas (4-1) [12]
WON 24-17 vs. Texas A&M
Ryan Mallett completed 27 of 38 passes for 310 yards and three scores as the Razorbacks beat their old SWC rivals.
13. Michigan State (5-0) [15]
WON 34-17 at Michigan
The Spartans beat the Wolverines for the third straight time behind a balanced effort on offense.
14. Iowa (4-1) [13]
IDLE
The Hawkeyes were off this past week and will travel to Ann Arbor to play the Wolverines on Saturday.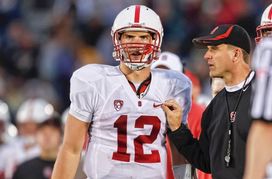 ICONStanford QB Andrew Luck
15. Stanford (5-1) [17]
WON 37-35 vs. USC
Nate Whitaker nailed a 30-yard field goal on the final play of the game to deal USC its second consecutive loss.
16. Arizona (4-1) [9]
LOST 29-27 vs. Oregon State
The Wildcats lost to the Beavers for the 10th time in the last 12 meetings and for the fifth straight time in Tucson.
17. West Virginia (4-1) [19]
WON 49-10 vs. UNLV
The Mountaineers outgained the Rebels 445-276 and jumped ahead 35-0 in the easy victory.
18. Wisconsin (5-1) [21]
WON 41-23 vs. Minnesota
John Clay (111) and James White (118) both ran for more than 100 yards and the Badgers will keep Paul Bunyan's Axe for the seventh straight year.
19. Florida State (5-1) [NR]
WON 45-17 at Miami
The Seminoles won their third straight at Miami in a dominant performance against the Hurricanes.
20. Nevada (6-0) [23]
WON 35-13 vs. San Jose State
Colin Kaepernick passed for 273 yards and Vai Taua ran for 196 and three touchdowns as the Wolf Pack beat the Spartans.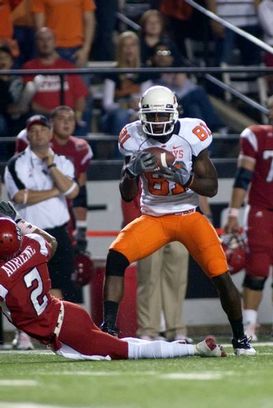 ICONOklahoma State WR Justin Blackmon
21. Oklahoma State (5-0) [24]
WON 54-28 at Louisiana-Lafayette
Cowboys receiver Justin Blackmon had 100 yards or more receiving for the fifth time in as many games in the win over the Ragin' Cajuns.
22. Florida (4-2) [16]
LOST 33-29 vs. LSU
The Gators lost consecutive games for just the second time in the Urban Meyer era.
23. Air Force (5-1) [25]
WON 49-27 vs. Colorado State
Asher Clark ran for 125 yards and a touchdown as the Falcons beat the Rams for the fifth straight time.
24. Missouri (5-0) [NR]
WON 26-0 vs. Colorado
The Tigers won their fifth straight over the Buffaloes, and Mizzou is 5-0 for just the 10th time in its 119-year history.
25. Oregon State (3-2) [NR]
WON 29-27 at Arizona
Ryan Katz threw for a career-high 398 yards and two TDs to lead the Beavers to an upset road win in Tucson.
Follow me on Twitter at Miller_Dave or send your college football questions to dave.miller@nationalfootballpost.com
Want to work in the NFL? Click here to register for the NFP's "Chalk Talk" seminar in Chicago on October 22nd.