October 25, 2010 -
Dave Miller
NFP Top 25
A look at how the National Football Post stacks up the Top 25 teams in the nation heading into Week 9 of the season.
2010 record in parentheses and last week's ranking in brackets.
1. Boise State (6-0) [1]
IDLE
The Broncos were idle this past week, and they likely fell off the radar with the performances of Oregon and Auburn. But they'll get a chance to recapture some national attention Tuesday against Louisiana Tech.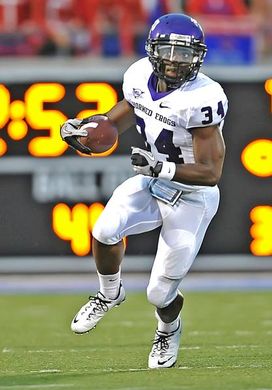 ICONEd Wesley rushed for 209 yards and two scores against Air Force.
2. TCU (8-0) [2]
WON 38-7 vs. Air Force
Ed Wesley rushed for 209 yards and two scores, and the Horned Frogs surrendered their first conference touchdown of the season in the victory over the Falcons.
3. Oregon (7-0) [3]
WON 60-13 vs. UCLA
Darron Thomas threw for a career-high 308 yards and three touchdowns to lead the Ducks over the Bruins.
4. Auburn (8-0) [5]
WON 24-17 vs. LSU
Cam Newton set a single-season rushing record for an SEC QB, and Auburn ran for 440 yards on the ground — the most allowed in a single-game in LSU history.
5. Alabama (7-1) [7]
WON 41-10 at Tennessee
Julio Jones had a single-game school record 221 receiving yards as the Crimson Tide beat the Volunteers for the fourth straight time.
6. Michigan State (7-0) [8]
WON 35-27 at Northwestern
Kirk Cousins threw for a season-high 331 yards and three touchdowns to help the Spartans overcome a 17-0 deficit against the Wildcats.
7. Utah (7-0) [9]
WON 59-6 vs. Colorado State
The Utes won their 21st straight home game — the third-longest active streak in the nation.
8. Missouri (7-0) [18]
WON 36-27 vs. Oklahoma
The Tigers beat Oklahoma for the first time since October 17, 1998, and Mizzou is 7-0 for the first time in 50 years.
9. Wisconsin (7-1) [12]
WON 31-30 at Iowa
The Badgers won their second straight over a ranked team — the first time they've done that since 2004.
10. Oklahoma (6-1) [4]
LOST 36-27 at Missouri
The Sooners were outscored 16-6 in the fourth quarter as Bob Stoops lost to Gary Pinkel for the first time.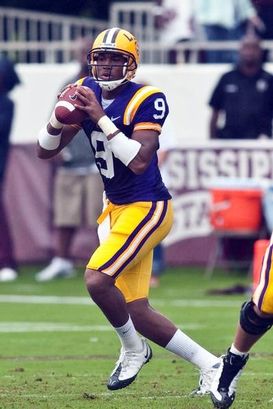 ICONJordan Jefferson and LSU couldn't get much going in the passing game against Auburn.
11. LSU (7-1) [6]
LOST 24-17 at Auburn
Jarrett Lee and Jordan Jefferson were limited to a combined 89 yards passing, and LSU could not stop the rushing attack of Cam Newton & Co.
12. Stanford (6-1) [11]
WON 38-28 vs. Washington State
The Cardinal held the Cougars to 91 rushing yards and moved to 6-1 for the first time since 1970.
13. Ohio State (7-1) [13]
WON 49-0 vs. Purdue
The Buckeyes notched their largest shutout victory over the Boilermakers, improving to 20-2 following a loss in the Jim Tressel era.
14. Nebraska (6-1) [14]
WON 51-41 at Oklahoma State
Taylor Martinez set career highs with 323 passing yards and five touchdowns and rushed for 112 more yards in the Cornhuskers' shootout win.
15. Arizona (6-1) [15]
WON 44-14 vs. Washington
Matt Scott filled in for the injured Nick Foles and went 18-of-22 passing for 233 yards and two scores as the Wildcats went on for the easy victory.
16. Iowa (5-2) [10]
LOST 31-30 vs. Wisconsin
The Hawkeyes were first in the nation in scoring defense entering last week's game but have allowed 58 points since.
17. Florida State (6-1) [19]
IDLE
The Seminoles were off this past week and will travel to Raleigh to battle NC State Thursday night.
18. South Carolina (5-2) [20]
WON 21-7 at Vanderbilt
The Gamecocks won for the ninth time in its last 11 games in Nashville despite playing without running back Marcus Lattimore.
19. Arkansas (5-2) [21]
WON 38-24 vs. Ole Miss
Knile Davis ran for a career-high 176 yards and three touchdowns to help the Razorbacks win a game that took nearly five hours thanks to two lightning delays.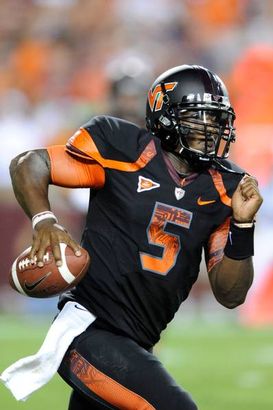 ICONTyrod Taylor is leading a Virginia Tech squad that is clicking on all cylinders.
20. Virginia Tech (6-2) [23]
WON 44-7 vs. Duke
Tyrod Taylor threw for 280 yards and tied a career-high with three touchdown passes, and the Hokies won their sixth straight for the first time since 2006.
21. Oklahoma State (6-1) [17]
LOST 51-41 vs. Nebraska
The Cowboys allowed 540 total yards to the Cornhuskers and fell for the first time this season.
22. Mississippi State (6-2) [24]
WON 29-24 vs. UAB
The Bulldogs have won five straight games in a season for the first time since 1999 as they survived a scare from UAB.
23. USC (5-2) [25]
IDLE
The Trojans were off this past weekend, and they will now get ready to host Oregon in what will be their biggest game of the year.
24. Miami, FL (5-2) [NR]
WON vs. North Carolina 33-10
Jacory Harris threw three touchdown passes to move into second place on Miami's career list and Damien Berry ran for his fourth straight game of 100-plus yards as the Hurricanes beat the Tar Heels.
25. West Virginia (5-2) [16]
LOST 19-14 vs. Syracuse
The Mountaineers had eight more first downs, more total yards and more time of possession than the Orange, but WVU had two more turnovers and four more penalties and sacks than the 'Cuse in the home loss.
Email dave.miller@nationalfootballpost.com or follow me on Twitter at Miller_Dave