September 23, 2012 -
Dave Miller
NFP Top 25
Week 4 of the 2012 college football season is in the books, and it was yet another memorable weekend.
Landry Jones came up short at home in a Big 12 showdown with Kansas State, Denard Robinson had yet another rough outing in a primetime showdown and Florida State showed its ACC supremacy.
With the rankings shaken up, let's take a look at how the National Football Post stacks up the Top 25 heading into the fifth week of the season.
2012 record in parentheses and last week's ranking in brackets.
1. Alabama (4-0) [1]
AJ McCarron tossed three touchdown passes, including an early 85-yarder to Kenny Bell, to lead the Crimson Tide to a 40-7 win over Florida Atlantic.
2. LSU (4-0) [2]
The LSU defense shut out Auburn in the second half to help secure a 12-10 win on the road.
3. Oregon (4-0) [4]
The Ducks forced five turnovers and kept Rich Rodriguez's squad out of the end zone in a 49-0 win.
4. South Carolina (4-0) [5]
Gamecocks quarterback Connor Shaw completed his final 20 passes for 252 yards and two touchdowns in a 31-10 victory over Missouri.
5. Georgia (4-0) [6]
Aaron Murray completed his first 12 passes as the Bulldogs cruised to a 48-3 victory over Vanderbilt.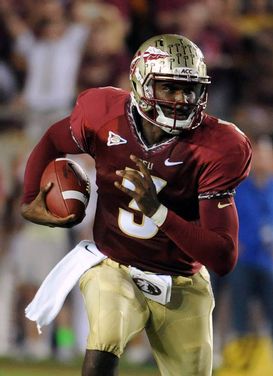 US PRESSWIREEJ Manuel and the 'Noles will be tough to beat the rest of the way.
6. Florida State (4-0) [9]
EJ Manuel completed 27 of 35 passes for a career-high 380 yards while rushing for another 102 in the Seminoles' win over Clemson.
7. Kansas State (4-0) [11]
John Hubert ran for 130 yards and a touchdown as the Wildcats beat OU 24-19 to avenge a lopsided loss last fall.
8. West Virginia (3-0) [7]
Tavon Austin caught three touchdown passes as the Mountaineers defeated Maryland 31-21.
9. Stanford (3-0) [10]
The Cardinal enjoyed their bye this past week and will play at Washington on Thursday.
10. Texas (3-0) [13]
The Longhorns had a bye this past weekend and will travel to Oklahoma State on Saturday.
11. Notre Dame (4-0) [14]
Manti Te'o had two interceptions as the Fighting Irish picked off five Michigan passes and forced a fumble in a 13-6 win over the Wolverines.
12. Florida (4-0) [15]
The Gators beat Kentucky 38-0 to extend their winning streak to twenty-six in the series.
CONTINUE TO PAGE 2 FOR NOS. 13-25