September 20, 2010 -
Dave Miller
NFP Top 25
A look at how the National Football Post stacks up the Top 25 teams in the nation heading into Week 4 of the season.
2010 record in parentheses and last week's ranking in brackets.
1. Alabama (3-0) [1]
WON 62-13 at Duke
Mark Ingram rushed for 151 yards and two touchdowns in his season debut as Alabama enjoyed its highest-scoring game in 19 years.
2. Boise State (2-0) [2]
WON 51-6 at Wyoming
Kellen Moore threw for 370 yards and two touchdowns and the Broncos defense forced three turnovers to extend their winning streak to 16.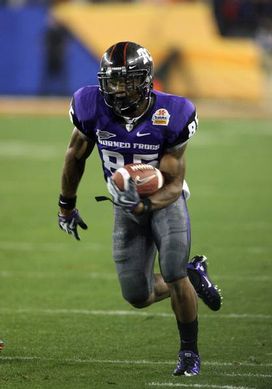 ICONJeremy Kerley and the TCU offense scored touchdowns on the first five drives of the game against Baylor.
3. TCU (3-0) [3]
WON 45-10 vs. Baylor
The Horned Frogs scored touchdowns on their first five drives to build a 35-3 lead over Baylor before halftime.
4. Nebraska (3-0) [6]
WON 56-21 at Washington
The Cornhuskers rushed for 383 yards and harassed Washington quarterback Jake Locker all day long in a dominant road performance.
5. Oklahoma (3-0) [4]
WON 27-24 vs. Air Force
DeMarco Murray scored three touchdowns and the Sooners held off a late Air Force rally to extend the FBS' longest active home win streak to 33 games.
6. Ohio State (3-0) [5]
WON 43-7 vs. Ohio
Terrelle Pryor completed a school-record 16 consecutive passes and the Buckeyes defense had five takeaways in a methodical win over the Bobcats.
7. Oregon (3-0) [7]
WON 69-0 vs. Portland State
Oregon has outscored its opponents 189-13 and already has logged two shutouts in a season for the first time since 1964.
8. Florida (3-0) [9]
WON 31-17 at Tennessee
Urban Meyer moved to 5-0 all-time vs. Tennessee and 15-1 vs. the Gators rivals (Tennessee, Georgia and FSU).
9. Auburn (3-0) [10]
WON 27-24 vs. Clemson OT
Auburn rallied from a 17-0 deficit to defeat Clemson for the 14th straight time despite Cam Newton only completing seven passes.
10. Texas (3-0) [11]
WON 24-14 at Texas Tech
The Longhorns held the Red Raiders to minus-16 rushing yards and won despite Garrett Gilbert throwing three first-half interceptions.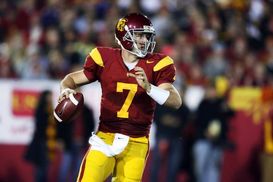 ICONMatt Barkley and the Trojans haven't looked dominant, but they remain unbeaten.
11. USC (3-0) [12]
WON 32-21 at Minnesota
The Trojans scored 19 straight points over the third and fourth quarters to extend its winning streak against the Big Ten to 11 straight games.
12. Wisconsin (3-0) [13]
WON 20-19 vs. Arizona State
The Badgers have won 27 straight nonconference regular-season games, the third-longest active streak in the nation (behind LSU and USC).
13. Arkansas (3-0) [14]
WON 31-24 at Georgia
Ryan Mallett may have had his first Heisman moment of the year, as he tossed a game-winning score of 40 yards to Greg Childs with 15 seconds remaining to beat Georgia.
14. Arizona (3-0) [17]
WON 34-27 vs. Iowa
The Wildcats jumped on the Hawkeyes early to take a 20-point halftime lead and received big plays on special teams and defense to stay unbeaten.
15. West Virginia (3-0) [16]
WON 31-17 vs. Maryland
Geno Smith threw a career-high four touchdown passes and Noel Devine rushed for a season-high 131 yards to lead the Mountaineers past the Terrapins.
16. South Carolina (3-0) [15]
WON 38-19 vs. Furman
It wasn't always pretty but South Carolina notched its first 3-0 start since 2007 with a win over the Paladins.
17. Utah (3-0) [18]
WON 56-14 at New Mexico
Utah begins the season 3-0 for the third time since 2000. The other two times — 2004 and 2008 — the Utes finished undefeated.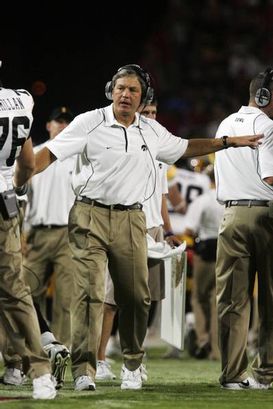 ICONKirk Ferentz watched some unusually poor special teams play from his Hawkeyes Saturday night.
18. Iowa (2-1) [8]
LOST 34-27 at Arizona
Iowa allowed at least 30 points for the first time since 2007 vs. Purdue — a span of 33 games.
19. LSU (3-0) [19]
WON 29-7 vs. Mississippi State
Patrick Peterson and Morris Claiborne each had two of LSU's five interceptions in a dominant defensive effort.
20. Stanford (3-0) [21]
WON 68-24 vs. Wake Forest
The Cardinal sits at 3-0 for the first time since 2001 after thoroughly dismantling the Demon Deacons. Andrew Luck already has thrown for 11 touchdowns.
21. Michigan State (3-0) [NR]
WON 34-31 vs. Notre Dame
The Spartans are welcomed into the NFP Top 25 after their trickery helped snag a victory over the Fighting Irish.
22. Miami (1-1) [23]
IDLE
The Hurricanes will look to bounce back from their setback at Ohio State when they travel to Pittsburgh for a Thursday night tilt with the Panthers.
23. Clemson (2-1) [22]
LOST 27-24 at Auburn
Clemson blew a 17-0 first-half lead and lost to Auburn for the 14th consecutive time.
24. Temple (3-0) [25]
WON 30-16 vs. Connecticut
Bernard Pierce finally had a breakout game this season with 169 rushing yards and a career-high three touchdowns. The last time the Owls were 3-0 was 1979, when they finished the season 10-2.
25. Michigan (3-0) [24]
WON 42-37 vs. Massachusetts
It was a tale of two Robinsons for the Wolverines Saturday — Denard accounted for three scores and Greg's defense gave up more points than any Michigan fan could have expected.
Have a college football question? Feel free to send me an email at dave.miller@nationalfootballpost.com.
Follow me on Twitter at Miller_Dave
Click here to win cash today playing fantasy football with the NFP and FanDuel.