September 30, 2012 -
Dave Miller
NFP Top 25
Week 5 of the 2012 college football season is in the books, and it was yet another memorable weekend.
Georgia survived a scare from SEC East rival Tennessee, Oklahoma State took Texas to the limit and Oregon State remained unbeaten.
With the rankings shaken up, let's take a look at how the National Football Post stacks up the Top 25 heading into the sixth week of the season.
2012 record in parentheses and last week's ranking in brackets.
1. Alabama (5-0) [1]
Amari Cooper caught two touchdown passes from AJ McCarron as the Crimson Tide beat Ole Miss 33-14.
2. LSU (5-0) [2]
Odell Beckham had five catches for 128 yards and two touchdowns as the Tigers beat Towson 38-22.
3. Oregon (5-0) [3]
The Ducks used a strong third quarter to pull away from Washington State 51-26.
4. South Carolina (5-0) [4]
The Gamecocks scored 31 unanswered points against Kentucky in a 38-17 victory.
5. Georgia (5-0) [5]
The Bulldogs relied on freshmen running backs Todd Gurley and Keith Marshall to beat Tennessee 51-44.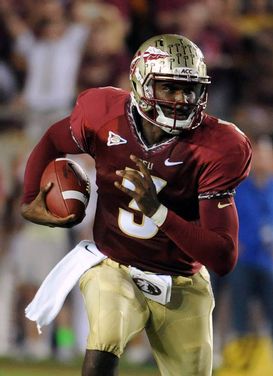 US PRESSWIREEJ Manuel and the Seminoles remain unbeaten after taking care of USF.
6. Florida State (5-0) [6]
EJ Manuel threw for 242 yards and one touchdown as the Seminoles beat South Florida 30-17.
7. Kansas State (4-0) [7]
The Wildcats had a bye this past weekend and will host Kansas on Saturday.
8. West Virginia (4-0) [8]
Geno Smith was nothing short of ridiculous with eight touchdown passes and 656 passing yards in a 70-63 win over Baylor.
9. Texas (4-0) [10]
David Ash threw three touchdown passes and the Longhorns survived giving up 576 total yards in a 41-36 win over Oklahoma State.
10. Notre Dame (4-0) [11]
The Fighting Irish had a bye this past weekend and will play Miami (FL) at Chicago's Soldier Field this week.
11. Florida (4-0) [12]
The Gators had a bye this past weekend and will host LSU on Saturday.
12. TCU (4-0) [13]
Casey Pachall threw two touchdown passes and Jason Verrett had two interceptions as TCU beat SMU 24-16.
CONTINUE TO PAGE 2 FOR NOS. 13-25