July 06, 2012 -
Dave Miller
Nike's 'The Opening' takes center stage
The most notable recruiting showcase of the offseason is taking place this weekend in Beaverton, Ore., as some of the best high school players in the nation will display their skills at Nike's headquarters for the second edition of The Opening.
Prep players across the country who made an impression at numerous camps throughout the last few months netted invites to the showcase, which features various drills, interaction with coaches and competition against one another.
The four-day event, which will feature 152 players who have major-college football dreams, is comprised of the Nike 7ON (a 7-on-7 segment designed for skill players to compete against top competition), the Elite Lineman Challenge (players in full pads in one-on-one battles) and the SPARQ National Championship (40-yard dash, 20-yard shuttle, vertical jump and power ball toss).
Check out the full roster of all the talented players at this year's edition of The Opening.
Schedule
Friday
SPARQ Testing
Nike training camp
SPARQ National championship (on ESPN)
Saturday
7-on-7/lineman drills
7ON Pool play (on ESPN)
Sunday
7-on-7/lineman drills
Lineman Challenge
7ON Championship
Let's break down some of the prospects to keep an eye on this weekend:
Quarterbacks
Of the six quarterbacks in town, Max Browne headlines the list. Arguably the top offensive player in the Class of 2013, the Washington native gave his verbal commitment to USC after setting numerous records at Skyline High. He'll have a chance to play pitch-and-catch with some of his future Trojan receivers during 7-on-7. By the way, there will be eight USC commits in attendance. Lane Kiffin and Co. certainly aren't letting scholarship reductions affect their future plans.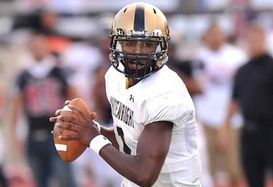 Tyrone Swoopes will have a chance to show that he is a much more polished passer than many may believe.
Texas native and Longhorn commit Tyrone Swoopes will also be in town. He is being compared to former Longhorn Vince Young because of his dual-threat capabilities, but he'll have a chance to show that he is a much more polished passer than the former Tennessee Titans star.
Michigan commit Shane Morris and Alabama pledge Cooper Bateman are also visiting the Northwest this weekend as well as Virginia native and Penn State commit Christian Hackenberg and Georgia pledge Brice Ramsey. Keep an eye on Morris, whose consistent accuracy is being questioned by some analysts. Ramsey, meanwhile, directs a run-heavy offense. So because he doesn't chuck the football consistently all over the field, he has gone a bit under the radar. He'll have his chance to work with top-notch receivers this weekend.
Running Backs
Running backs at this showcase get to display not only their running and receiving skills but their pass-blocking skills — or lack thereof — as well. Illinois native and USC commit Ty Isaac is the gem of the running back group, but fellow future Trojan Justin Davis is also notable. Davis is the bigger of the two 'SC RB commits. Missouri's Ezekiel Elliott is bound for Ohio State while speedy Virginia backs Taquan Mizzell and Derrick Green, Georgia native Alvin Kamara and Pennsylvania's David Williams are uncommitted.
The state of Florida has two backs staying in state: Kelvin Taylor will become a Gator while Ryan Green is headed to Florida State. Green is a big play waiting to happen and is one of the more versatile backs in the Class of 2013. He is probably the best pass-catcher out of all the backs and could find himself aligned in the slot in Tallahassee and even in the defensive backfield because he has good cover skills. Taylor, meanwhile, will also bring very good pass-catching skills to Florida's backfield.
Chip Kelly and Oregon are excited about landing yet another running back and Texas native: Dontre Wilson. Can Wilson make a similar impact as Longhorn State native LaMichael James? Ole Miss commit Mark Dodson Jr. and Alabama pledge Altee Tenpenny will also be in attendance. This will be the second straight appearance at the event for Tenpenny.
CONTINUE TO PAGE 2 FOR MORE PROSPECTS TO KEEP AN EYE ON