March 27, 2014 -
Dave Miller
NLRB ruling leads to plenty of questions
National Labor Relations Board regional director Peter Sung Ohr ruled in Chicago on Wednesday that Northwestern football players are indeed university employees and eligible for the right to form a union.
While the future of college athletics could definitely change in a major way, Ohr's reasoning for the ruling creates a plethora of unanswered major legal questions.
Ohr's ruling, despite being the subject of what certainly will be an appeal, is significant because it is yet another shot fired at the way the NCAA is currently structured. While the governing body's chief legal officer Donald Remy responded to the decision by saying that the NCAA strongly disagree with the notion that student-athletes are employees, he did reiterate that members of the governing body have been re-evaluating the current rules because of the long-overdue realization that improvements have to be made. Of course, one impending change within the NCAA is in its governance model in regards to the new Division I board of directors, which could feature an athletics director, a student-athlete and a faculty athletics representative casting votes instead of strictly university presidents.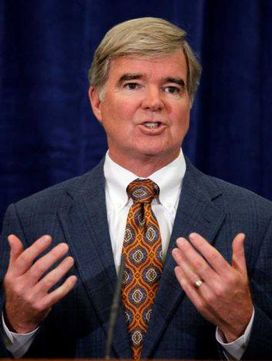 NCAA president Mark Emmert has had better days.
However, that is just one small modification to a system that Remy maintained via a statement "has helped literally millions of students over the past decade alone attend college." While there's no question that there are a ton of current and former student-athletes who have benefitted from the long-standing model, the increasingly booming business of major college athletics has inevitably led to plenty of people questioning the current system.
There are various ongoing lawsuits that may lead to stipends for college athletes, such as the one involving former UCLA basketball player Ed O'Bannon, whose antitrust lawsuit against the NCAA goes to trial on June 9 in California. All eyes were on that issue before outgoing NU quarterback Kain Colter's forming of the College Athletes Players Association. A win by O'Bannon and Co. would change the NCAA like nothing we have ever seen before, especially in the wake of NCAA president Mark Emmert failing to pass through the additions of $2,000 stipends to scholarships because of opposition by smaller schools.
It is important to keep in mind that the push for unionization and the increasingly dominant pay-for-play conversations are separate issues. Of course, both issues involve major change. But Colter said the main issue he wanted taken care of was ensuring that players' medical needs were met even after they graduated. The players also wanted more research into traumatic injuries such as concussions.
As of now, Ohr's ruling would only technically affect Northwestern. However, other private schools would likely follow suit if the ruling that players can organize as a union is upheld. And that is still in question.
Northwestern will appeal to the NLRB in Washington, D.C. (the decision this week was from the regional NLRB director), and who knows when a decision would come down on the appeal. But if the ruling stands, all expectations are that this would eventually lead to major changes at public schools as well — not just at private institutions such as Northwestern (although each non-private school would be governed by its specific state's laws on unions of public employees).
We are at this point because Ohr concluded that student-athletes are employees and should have the right to form a union because of the incredible revenue (football revenue for NU was reported to be over $200 million between 2003 and 2012) that is generated based on the performance of NU football players, which Ohr feels is possible due to the players being controlled by the coaching staff. His findings concluded that practice, workouts, demanding study schedules, etc. — all of the things that go into being a student-athlete — were all reminiscent of the control that an employer has over an employee.
Again, there are a plethora of issues. But this decision is just another argument against the current model that continually preaches amateurism. While there has been an ongoing discussion of restructuring to give the Power Five conferences more leeway in order to institute positive improvements for student-athletes, the NCAA is certainly not comfortable when much of the national discussion centers on antitrust lawsuits and how Congress may be involved with how college sports should be governed.
It has long been believed that the majority of public opinion was the NCAA's most staunch opponent. Now, the legal system is starting to become an enemy as well.
Although the Northwestern players have maintained that they are not interested in being paid, the formation of a players' union likely would pave the way toward the discussion of salaries for student-athletes, particulary in the high-revenue sports of football and men's basketball. You don't think college players hear about their programs raking in sometimes nine-figure yearly revenues from basketball and football because of large television contracts, such as the NCAA's 14-year, $10.8 billion contract for the Division I men's basketball tournament and the reported $7.2 billion over 12 years for the new College Football Playoff?
Unquestionably, these are issues that are difficult to tackle from every single angle even for those with a law degree and a strong background in labor law and unions. But there's no doubt that Ohr's decision could potentially have far-reaching implications, changing the face of college sports forever.
Dave Miller, the college football editor and writer for the National Football Post, is on Twitter @Miller_Dave.