January 28, 2011 -
Dave Miller
No more excuses for Neuheisel in Westwood
UCLA fans frustrated with the team's offensive woes in 2010 had their wish granted when coordinator Norm Chow was ousted from Westwood, and the veteran assistant will now try to spark Utah's inconsistent offense as Kyle Whittingham's squad transitions into the Pac-12.
What does this mean for Bruins head coach Rick Neuheisel?
As he enters a make-or-break 2011 season, the fate of the offense now lies solely in his hands.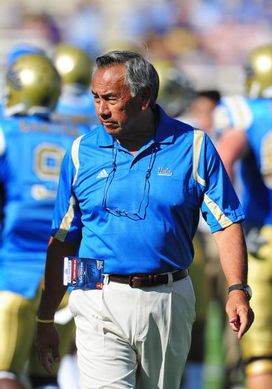 ICONNorm Chow is out at UCLA after an underwhelming tenure.
With the school and Chow reaching a mutual agreement to separate last weekend, the Bruins will move forward with former San Francisco 49ers offensive coordinator Mike Johnson running the show.
But in the Neuheisel era, UCLA's unsteady quarterback play has been the biggest factor in the ineptness of the offense. And with the face of the program now also serving as quarterbacks coach, there's no one else to blame if the Bruins can't get steady play in the fourth season of this regime.
If things don't turn around offensively in Westwood, it's now entirely on Neuheisel.
There seemingly wasn't a Saturday afternoon in the Pac-10 the last three seasons when Neuheisel wasn't yelling at whoever was under center as he jogged off the field after another three-and-out or a bad turnover. It's not a stretch to say that signal-callers Kevin Prince and Richard Brehaut were the stand-ins for Chow while they were on the receiving end of their weekly sideline tongue-lashings from the head coach.
While the two stressed that their relationship wasn't frayed, it was clear that Neuheisel and Chow could no longer coexist. For whatever reason, the two could never get on the same page.
"I've been looking to try and put back together what I feel will be a formidable staff," said Neuheisel, who also released defensive coordinator Chuck Bullough and receivers coach Reggie Moore on Dec. 18. "One that will communicate with the players, one who will do a great job out recruiting and sharing the vision of UCLA and our football program and one that will get along really, really well with one another and check egos at the door. And we will fly as we go down the road. So I'm looking forward to if that can't be the case.
"I think we've always had good coaches. I think we've always had good people. Sometimes the chemistry of the staff isn't exactly right."
Clearly, there were chemistry issues, as UCLA players and coaches even admitted that Neuheisel and Chow never really clicked. But that shouldn't be an issue with Johnson, whose relationship with Neuheisel dates back to the 1980s.
Again, though, it begins and ends with the quarterback. In his career, Chow coached three Heisman Trophy-winning signal-callers and six quarterbacks who were NFL first-round draft picks, but he never had the same material at UCLA. Injuries along the offensive line certainly didn't help, but there won't be any more excuses if the Bruins finish last in the Pac-10 in total offense and passing offense once again.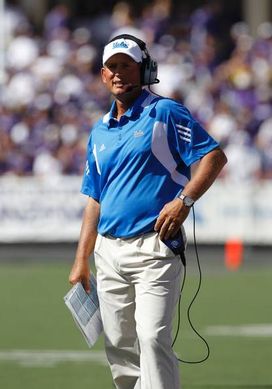 ICONRick Neuheisel will enter the 2011 season in must-win mode.
UCLA, which has gone 15-22 in three seasons under Neuheisel, must have balance offensively — like any other team looking for success. While we'll still see parts of the run-oriented Pistol that the team learned from Nevada, there has to be a bigger emphasis on the passing game. The Bruins have some of the most dynamic backs in the country in Johnathan Franklin and Derrick Coleman, but they're rendered ineffective without a complementary passing attack.
And while the two have a longstanding relationship, it will be interesting to see how Neuheisel and Johnson co-exist and who will actually be calling the plays. Neuheisel has said that those duties will be a collaborative effort, as both have experience sending in the plays, but how will the pair deal with the first bit of adversity next season?
Prince and Brehaut will both enter 2011 with starting experience. But, once again, Prince's health will be one of the hottest topics in spring camp, as he might not be 100 percent after knee surgery. While he has showed flashes in the past, can Prince really be trusted to last a full season? And like Prince, Brehaut tossed more interceptions than touchdowns last season.
The most intriguing option is true freshman Brett Hundley, one of the top recruits in the nation who is already enrolled. But in a make-or-break year, would Neuheisel put a true freshman under center if he outplays Prince and Brehaut through fall camp?
In my mind, whoever is going to deliver hope — and a bowl berth — will get the call. Or else Neuheisel won't be around Westwood for a fifth season.
Email dave.miller@nationalfootballpost.com or follow me on Twitter at Miller_Dave
Want to work in the NFL? Click here to sign up for the NFP's "Chalk Talk at the Combine" Seminar February 25 in Indianapolis.