July 19, 2011 -
Barry Dorey
No Newton? No problem for Malzahn
Gus Malzahn knows how to adapt.
Case in point: in his five seasons as coordinator at the college level, the Arkansas high school coaching icon has seen his offense run by five different quarterbacks. And each signal-caller ran his scheme successfully, beginning with his tenure under Houston Nutt at Arkansas in 2006 when the Razorbacks won the SEC West and continuing at Tulsa, where the Golden Hurricane ranked No. 1 nationally in total offense in back-to-back seasons.
When he arrived on The Plains, Malzahn continued to show the college football world that he had of the most innovative offensive minds in the game. But not even the biggest supporter of Malzahn's could have predicted how dominant the Tigers would be offensively in 2010.
Under junior-college transfer and former Florida Gator Cam Newton, the Tigers offense led the SEC in scoring offense, total offense, rushing offense and pass efficiency as they produced an undefeated 13-0 mark and a BCS national championship. Newton ran away with the Heisman Trophy after leading the fourth-ranked total offense in the country, and Malzahn claimed the Broyles Award, given annually to the top assistant coach in the nation. High on the list of athletic directors across the country looking for a new head coach, Malzahn politely declined the multiple overtures. Why mess with a good thing?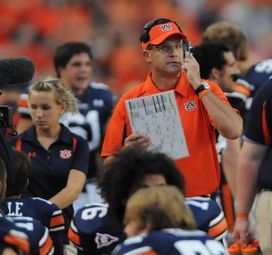 Gus Malzahn will be coaching a different starting QB for the sixth time in as many seasons as a college coordinator.
But this fall, the Auburn offense is going to look a little different. Whether it's redshirt sophomore Clint Moseley, redshirt junior Barrett Trotter or prized 2011 recruit Kiehl Frazier lining up under center in the team's Sept. 3 opener against Utah State, the starting quarterback will be in charge of replacing perhaps the best dual-threat not named Tim Tebow who helped lead a unit that averaged 41.2 points per game in 2010.
But the general of the unit doesn't seem too worried — not when sustained success has been the norm no matter who has been under center.
"Well, I've been pretty fortunate to have some talented guys that were very, very good quarterbacks," Malzahn told the Anniston Star. "I think we're a quarterback-friendly offense, we're a quarterback-oriented offense.
"The expectations are high for the quarterback position in our offense, and I think all of our quarterbacks understand that and are working hard to be that sixth guy."
To doubt Malzahn's pedigree as a quarterbacks coach and offensive mind would be foolish, of course. But to really understand the value he brings to the table, think back to the impact he made in 2009 when he made Chris Todd a productive quarterback.
Yes, the same Chris Todd who didn't look worthy of being an SEC starter in 2008 produced a record-breaking 2009 campaign. He completed over 60 percent of his passes for over 2,600 yards with 22 touchdowns against just six interceptions. And while the 2009 Tigers weren't an offensive juggernaut in comparison to the 2010 squad, Todd's skill set wasn't in the same realm as Newton — but he still was productive.
But there's the rub: no one on the current Auburn roster is close to Newton in terms of talent.
While Malzahn insists he's confident no matter who steps in, one has to wonder just how deep that confidence runs as Auburn was a finalist for the services of N.C. State transfer Russell Wilson, who decided to take his dual-threat skills to Madison and run Paul Chryst's offense. There's no doubt that Wilson possesses the talent to succeed in a no-huddle offense designed to spread the field and take advantage of mismatches. With the Tigers forced to stay in-house, is this the year Malzahn's offense takes a step back?
Trotter is considered the frontrunner, if only because he was the lone signal-caller to see any significant time on the field last fall. Still, he attempted just nine passes as Newton's backup while Moseley appeared in just one contest without attempting a throw. Frazier will likely be the most talented signal-caller in fall camp, but his youth may work against him. Could Malzahn hand the keys over to a true freshman?
No matter who ultimately wins the job, expect one thing: productivity.
"You identify who your quarterback is, you identify his strengths and try to build around his strengths," Malzahn said. "You ask him not to do things he's not strong at or not good at. Once we identify our starter, we'll kind of tweak our offense. And, just like last year with Cam, it took us two to three, almost four games to really figure out exactly how he's going to react to every situation and really what his strengths are."
Sounds exactly like a coach who's had success with a revolving door under center.
Check out Malzahn's sit-down with reporters on July 15. Video courtesy of Auburn247Sports.
Email dave.miller@nationalfootballpost.com or follow me on Twitter at Miller_Dave