June 08, 2013 -
Dave Miller
No surprise that Rees is the starter at ND
Notre Dame head coach Brian Kelly made news this past week when he announced at a Grand Valley State University event in Grand Rapids, MI, that Tommy Rees is Notre Dame's starting quarterback once again.
A week after telling reporters that a three-way competition would take place in August between Rees, fourth-year junior Andrew Hendrix and spring enrollee Malik Zaire for the right to replace suspended starter Everett Golson, Kelly said Wednesday night that Rees is the new starter.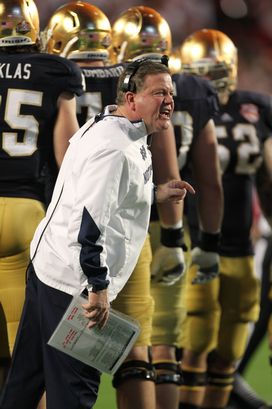 US PRESSWIREBrian Kelly will hand the keys to the ND offense over to veteran Tommy Rees.
"I've always moved forward," Kelly said, according to mlive.com. "I don't live in the past. I don't spend too much time in the future. I live in the present, and the present is that I've got Tommy Rees who is the starter for us, an established player, and he will be our starter. We think Andrew Hendrix and Malik Zaire can contribute, but Tommy will be our starter."
As I wrote at the NFP after the Golson news broke, the senior Rees is the logical choice to take over a Fighting Irish offense that will be seeking a bit of a new identity in 2013.
While the Irish want to continue to establish a sound ground game, the unit is likely going to lean a bit less on George Atkinson III and the new crop of running backs while trying to take advantage of a deep group of receivers that includes TJ Jones, DaVaris Daniels, Chris Brown and possibly C.J. Prosise. There was high hope for Golson's development as a passer, which makes the move to Rees easier to swallow because he will be able to provide ND's offense with a vertical threat.
Rees has the most experience of the returning quarterbacks with 18 career starts, and he relieved Golson a few times last year and sparked an Irish offense that finished 54th in the nation in total offense, including 71st in passing offense, in 2012. Rees, who was suspended for last year's season opener after pleading guilty to misdemeanor resisting law enforcement and illegal consumption of alcohol by a minor, has a chance to now finish his ND career with a flourish if he remains focused throughout the summer and preseason camp.
The much-maligned Rees has been in the spotlight before, as he played in the final four games (all victories) of his freshman season when Dayne Crist went down with a torn patellar tendon in his left knee, and he was also called upon when Crist was benched in the season-opening loss to South Florida in 2011. He started the final 12 games of that season. And, of course, he helped rally the Irish to victories last year when Golson struggled or was injured. For his career, Rees has thrown for 4,413 yards with 34 touchdowns against 24 interceptions en route to an 18-4 record as a starter.
The one downside to turning the offense back over to Rees is that he doesn't provide a run threat. He is a pure dropback passer, so the dual-threat dimension that Golson gave this offense will be sorely missed — especially with the running back situation slightly unsettled. That's why it's likely that Hendrix and maybe even Zaire have packages designed for them so that they can give the Irish a dual-threat from the QB position while spelling Rees. Hendrix brings desired size and athleticism to the position, while Zaire has good size and is mobile as well. If he can handle it mentally, some playing experience could go a long way towards Zaire's development as the longterm starter.
We'll see how much action Hendrix and Zaire see this fall, but there's no question that turning the offense over to Rees is an easy call for Kelly, who hopes to lead the Irish back to the BCS national championship game.