November 05, 2010 -
Dave Miller
Not out of the woods yet
He dodged one bullet. Now can he dodge another one — a second consecutive disastrous end to a season?
Michigan head coach Rich Rodriguez received some good news Thursday when the NCAA's Committee on Infractions ruled that it did not find Rodriguez guilty of failing to promote an atmosphere of compliance. While the football program was penalized for major violations for the first time in its history and an extra year of probation was added, the charge against Rich Rod was the one that the university contested when it gave its internal report to the NCAA this past spring and again in August.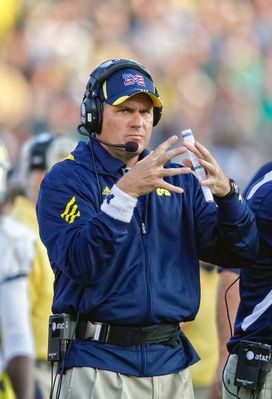 ICONMichigan head coach Rich Rodriguez is 4-16 in Big Ten games.
So in that respect, Rodriguez must feel relieved. Now, it's back to the football field.
And the Wolverines have some problems.
Illinois (5-3, 3-2) visits Ann Arbor Saturday afternoon looking to continue its winning ways, fueled by an offense becoming more confident each week and a speedy, opportunistic defense. The Illini will be seeking their third straight win after putting up 43 and 44 points the last two weeks against Indiana and Purdue, respectively, and giving up a combined 23 points.
The Wolverines (5-3, 1-3), meanwhile, have lost three straight contests and are looking eerily similar to the 2009 squad that started 4-0 before losing seven of their last eight games.
In his third year in town, Rodriguez finally has the quarterback in Denard Robinson that can run his spread attack. As we have seen this season, "Shoelace" can will a team to victory. But even the best of players need help. And the defense has not been able to help the cause this season.
The Wolverines are yielding 440.2 yards per game and an astounding 18 scores on the ground. However, they have been even worse against the pass, giving up 290.5 yards per game through the air. Even Penn State, which was playing backup Matt McGloin, threw for 250 yards last week in their win over the Wolverines.
Perhaps it wouldn't be so bad if it was at least an opportunistic unit, but the defense has just nine takeaways to its credit. The only standout defender is linebacker Jonas Mouton, who recorded 12 tackles and a sack in the loss to the Nittany Lions. He has a team-high 75 tackles along with a pair of sacks and two interceptions on the year.
While the secondary has been ravaged by injuries and other personnel losses, coordinator Greg Robinson has to take the blame for such atrocious defense. To struggle in his first year is one thing. For the poor play to continue in his second season is another.
After the game against the Illini, things don't get any easier for the Wolverines.
Nov. 13: at Purdue
Nov. 20: vs. Wisconsin
Nov. 27: at Ohio State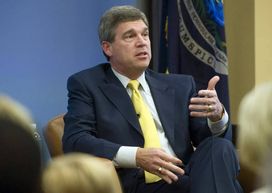 Wolverines athletic director Dave Brandon
Rodriguez, who is 4-16 in Big Ten games, needs to win one more game to ensure that Michigan goes bowling. Will 6-6 be enough to grant Rich Rod a fourth year? If that win comes against Ohio State, you would have to think absolutely. But what if the Wolverines are 6-6 with another bad loss to the Buckeyes. Heck, what if they are 7-5 with another bad loss to Jim Tressel?
At seven wins, it's tough to see athletic director Dave Brandon making a move. It's safe to assume that there will be at least some shakeup on the staff, starting with Robinson. That's almost a certainty.
Ultimately, it comes down to wins and losses. Brandon stated that Rodriguez won't be canned because of the NCAA's ruling, but that the program would be evaluated at the end of the season. Wins against the Illini and Purdue would go a long way toward ensuring that Rodriguez returns in 2011, even with losses to Wisconsin and Ohio State to close the year.
But the tumultuous nature of the program — fast starts and dismal finishes, an NCAA investigation that finally came to a conclusion and roller-coaster games against inferior opponents — must come to an end. If not, the Jim Harbaugh rumors will swirl again. The only thing that can stop those are wins, starting Saturday against the Illini.
Email dave.miller@nationalfootballpost.com or follow me on Twitter at Miller_Dave