September 13, 2012 -
Dave Miller
Notre Dame, ACC in win-win situation
Despite the fact that Notre Dame is joining the ACC without tying its football program to the full conference membership banner, ACC commissioner John Swofford scored a touchdown with the acquisition of the Fighting Irish for his league.
"This is indeed a monumental day in the history of our league," Swofford said at a Wednesday news conference in Chapel Hill, N.C.
The Notre Dame brand is still strong, and Swofford knew that when he pursued the tradition-rich school.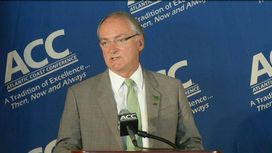 Notre Dame AD Jack Swarbrick recognized the changing landscape of college sports, so the Irish are off to the ACC.
"We have monitored the changing conference landscape for many months and have concluded that moving to the ACC is the best course of action for us," Notre Dame athletic director Jack Swarbrick said, in a statement released by the conference. "We are able to maintain our historic independence in football, join in the ACC's non-BCS bowl package, and provide a new and extremely competitive home for our other sports."
While the ACC doesn't have ND as a full-fledged football member, the Fighting Irish are still linked to Swofford's league — and that's a good thing. Plus, the Irish will be playing ACC schools five times a year, so that's certainly an important aspect for the league. While we often see teams such as N.C. State and Wake Forest on television each week anyway, it's always a bonus for a conference to get those schools to appear on NBC, which carries Notre Dame home games.
So when will the Fighting Irish get to enter their new league?
Notre Dame is not expected to leave the Big East until at least 2014, according to ESPN's Joe Schad. Big East bylaws require universities to give 27 months notice if they plan to leave, although West Virginia, Syracuse and Pittsburgh have been able to negotiate early departures from the Big East. Based on the current rules, the earliest the Irish could leave without penalty is 2015. But money talks, and ND seemingly is set to jump ship a bit early. Neither the Big East nor Notre Dame wants this divorce to drag on.
In Boston College, Miami and Florida State, the Irish already have ACC rivalries that have some historical significance. While the team may not be able to continue series with Midwestern schools such as Michigan and Michigan State, Notre Dame expects to continue to play West Coast teams such as USC and Stanford, so the Irish will continue to have a presence on that side of the country. The benefit of joining the ACC is that while the Irish recruit nationally as it is, they may be able to increase their recruiting base even deeper in the Mid-Atlantic and Coastal regions.
The ACC certainly has more of a buzz now. And if Notre Dame becomes an annual Top 10 team, there's no rush for the Irish to fully join the ACC and split any TV or bowl money. Even though revenues from the new television deal with ESPN are likely to pay each ACC school roughly $18 million per season, ESPN.com's Darren Rovell noted on Wednesday that Notre Dame's TV deal with NBC is worth around $15 million per year. And with a strong alumni base and a $6.1 billion endowment, ND isn't lacking revenue.
The move for Notre Dame was actually more about stability and access than money — which is surprising in big-time college athletics. It has a prime spot in a league that's stronger than the Big East while the Irish don't have to split their revenue. And with the ACC increasing its exit fee for schools to over $50 million, Florida State and any other member school once rumored to be on the move aren't going anywhere.
Swofford and the ACC completed a deal that will sweeten its league in the ever-changing college sports landscape. And the Irish were able to secure future football scheduling stability in an age where more conferences are playing nine league games. The Irish didn't want to be forced to schedule an FCS team or possibly schools from the Sun Belt or MAC, especially if strength of schedule is indeed part of the selection process for the football playoff that begins in 2014. In addition, ND has access to all of the bowls contracted with the ACC in case they don't net a major bowl bid. And all of these perks will come while still remaining football-independent — which is what ND has wanted to do no matter how the dominoes of conference realignment fell.
And if Notre Dame ever decides that its football program needs to be a full-fledged member of a conference, the school already has one foot in the ACC's doorway. A win-win for both the Irish and their impending new league.
Email dave.miller@nationalfootballpost.com or follow me on Twitter at Miller_Dave