April 17, 2011 -
Dave Miller
Notre Dame Blue-Gold game recap
Notre Dame held its 82nd Blue-Gold game on Saturday afternoon in South Bend, with the Blue falling to the Gold 17-14. Of course, not a lot can be taken away from this game because of a variety of factors — notably many of the team's best skill-position players receiving limited action against a defense not offering the same looks it will give to opponents in the fall. But there were some intriguing storylines playing out in front of 27,863 fans at soggy Notre Dame Stadium.
This defense really can make a difference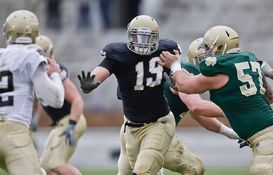 ICONIn the Blue-Gold game, Aaron Lynch showed why he was one of the more highly sought defenders in the Class of 2011.
There's a reason why everyone associated with the Notre Dame program was petrified at the thought of losing top recruit Aaron Lynch to Florida during the last recruiting cycle. The guy can flat-out defend. The pass-rushing specialist was the star of the spring showcase, leading the way with seven tackles — including 1.5 for loss — and consistently pressuring the quarterback. Andrew Hendrix certainly knows how much of an impact Lynch can have, as the young signal caller seemingly couldn't escape him all day.
The most impressive thing was that the 6-6, 260-pound 18-year-old defensive end did a lot of the damage against the first-team offensive line, including Trevor Robinson and Taylor Dever. Along with linebacker Manti Te'o, massive tackle Louis Nix and end Kapron Lewis-Moore, Lynch could make this Notre Dame defense one of the best it has had in years.
The outside linebackers also had a nice day. True freshman Ishaq Williams made five tackles while spending time at Darius Fleming's 'Cat' position, while Danny Spond and Prince Shembo continued to fight for the starting 'Dog' spot. The two combined for 13 tackles. Steve Filer also had a handful of quarterback pressures. It will be interesting to see how coordinator Bob Diaco uses all his pieces on this unit, especially with his rush packages. It was a good day for Diaco to see how deep his line is with the production it gave despite Ethan Johnson and Lewis-Moore seeing limited action.
Running the football will be a priority
Walk-on Patrick Coughlin was the star running back in the game, which shows that Kelly did not want to take a chance on Cierre Wood or Jonas Gray getting hurt. Wood had a very good spring and will enter fall camp as the starter after impressing Kelly with his confidence and decisiveness running the ball, not to mention his immense talent. Wood had seven carries for 39 yards on Saturday.
The Irish will also see production on the ground from their quarterbacks, no matter who is under center. Hendrix gained 42 yards on five carries and scored two touchdowns, while Everett Golson recorded a game-high 74 yards on 11 carries, including a 23-yard rush. Both quarterbacks were live, unlike Dayne Crist and Tommy Rees, so the staff was able to see how both performed in the spread-option.
Both need to make improvements throwing the football, but Hendrix led a nice two-minute drill at the end of the first half and Golson showed flashes, especially for an early-enrollee. Plus, the playing conditions weren't great, as it was a wet and windy day.
The battle for the starting job under center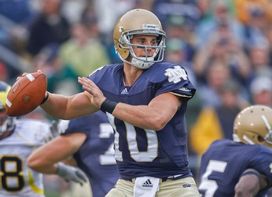 ICONRising senior Dayne Crist remains in a battle with Tommy Rees for the starting QB job.
Meanwhile, Crist and Rees were unimpressive in their short time on the field. Crist was 5 of 10 for 34 yards while Rees was 7 of 14 for 64 yards with an interception. The rising sophomore did, however, have a touchdown pass dropped on the first series among a few mishandled footballs by the receivers. Kelly stated that he thought Rees was the more accurate of the two signal callers. However, Crist did lead his squad to two scoring drives — a 36-yarder that set up a 22-yard Nick Tausch field goal and an 11-play, 52-yard drive that concluded with a 45-yard Tausch field goal.
After the game, Kelly said that he will cut down on the number of quarterbacks taking reps during fall practice. With the spring game concluded, he has compiled even more data as he works toward naming a starter.
For highlights of the Blue-Gold game, check out this video courtesy of NBC Sports.
Email dave.miller@nationalfootballpost.com or follow me on Twitter at Miller_Dave