October 17, 2012 -
Dave Miller
Notre Dame could be Oregon's biggest threat in BCS race
The first Bowl Championship Series standings were released this past Sunday night, which means that speculation has begun regarding which teams have the best shot of landing in the top two slots for a chance to play for the national title when the final rankings are released at the end of the year.
Of course, there are plenty of games left on the schedule, as Week 8 just kicked off with North Texas beating Louisiana-Lafayette on Tuesday evening. But let's take a look at the upcoming paths for two teams in the Top 5 of the standings: Oregon and Notre Dame.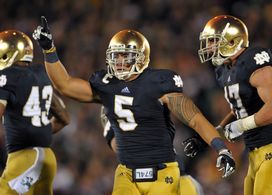 US PRESSWIRECan Manti Te'o and the Irish claim a berth in the BCS title game?
If Oregon and Notre Dame indeed both finish undefeated, the Fighting Irish seemingly could move ahead of the Ducks in the BCS standings for a couple of reasons.
First, it was recognized coming into the season just how difficult of a schedule Brian Kelly's squad had in store this fall. Navigating that slate unbeaten will be tough for Harris Poll and Coaches' Poll voters to overlook. And because 1-loss Oklahoma and 1-loss USC are left on ND's schedule, wins over those two teams would help Notre Dame even more in the computers.
Oregon, meanwhile, still has games left against Arizona State, Oregon State and at least one and maybe two against USC. But by the time the Ducks play the Trojans in a possible Pac-12 title game, the Trojans could have three losses (possibly being beaten by the Irish and Ducks). And will the Beavers and Sun Devils still have shining marks at the end of the year to continue to help Oregon in the computers?
What if the Irish have one loss? Could they still find a way to sneak into the title game?
The overwhelming feeling is that there could be a plethora of 1-loss teams at the end of the season fighting for a spot in the title game to possibly play an undefeated Alabama. But what if the Crimson Tide has one loss? That's BCS armageddon, unless perhaps Florida and Kansas State are the lone unbeatens.
If ND is one of a slew of 1-loss teams trying to get into the title game, its one loss would almost certainly have to be a nail-biter in Norman against the Sooners. That would not be a bad defeat, and it would give the Irish enough time to recover in the rankings. Again, because of ND's strength of schedule, the human element will likely not kill the Irish in the polls and they should still be strong in the computers.
Of course, this is all hypothetical. But if Oregon and Notre Dame both go undefeated, the Ducks may want to hope that there isn't a third unbeaten. Because Chip Kelly's squad could be on the outside looking in at the end of the year in that scenario.
Email dave.miller@nationalfootballpost.com or follow me on Twitter at Miller_Dave