August 16, 2011 -
Dave Miller
Notre Dame Media Day notebook
Notre Dame held its football Media Day on Tuesday, and head coach Brian Kelly was once again asked about the team's quarterback competition between Dayne Crist, Tommy Rees, Andrew Hendrix and Everett Golson.
"Dayne [Crist] and Tommy [Rees] have separated themselves from the other two. Both guys can take the whole offense and run with it," Kelly said. "Both can play championship football for us. There is the slightest of margins between the two right now.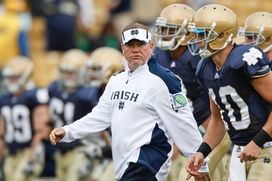 ICONThere are high expectations for Brian Kelly and the Irish this fall.
"The other two guys [Hendrix and Golson] haven't mastered the entire offensive system yet, but excel in certain parts, and I'm confident, if asked to contribute, can do those certain parts of the offense well."
Could Kelly employ a veteran-youngster combo, such as when Florida used Chris Leak and a young Tim Tebow?
"I'm going to leave that up to a tactical advantage," he said.
Kelly still plans on naming a starter roughly 10 days before the Sept. 3 season opener against South Florida in South Bend, and it will likely be who he feels is more apt to be turnover-free. Still, he has confidence in both starters from last season. So much confidence that the final verdict will likely be met with little separation between the combatants.
"It really is mastering the offensive system," Kelly said, when referencing what he's looking for at the quarterback position. "And when I say mastering the offensive system, there are so many different things we can do in our offense, that the quarterback has to be able to be efficient in all areas.
"[It's] getting in the right play, checking to the right protection, making sure the right people get their hands on the football. It's more than arm strength and leadership capabilities. There are so many other things involved. There's also now an added dimension, which is that we feel very confident about the kind of defense we play, so taking care of the football is a premium."
Other notes
Senior receiver Michael Floyd has not missed a beat since returning from suspension for his arrest on drunken driving charges.
"Michael Floyd does not have any catching up to do from his perspective," Kelly said.
As for the possibility of opposing fans and even defensive backs not letting him forget about his off-the-field transgressions, the Chicago Tribune's Brian Hamilton reports that the personable Irish star will just use it as motivation this season.
Injuries
As expected, freshman safety Eilar Hardy will miss the 2011 season after suffering a knee injury that will require surgery. Offensive lineman Tate Nichols dislocated his knee but he is ahead of schedule and could be back for the opener. Meanwhile, tight end Mike Ragone is still battling a quad strain and remains sidelined.
Check out Brian Kelly's press conference from Media Day, courtesy of und.com.
Email dave.miller@nationalfootballpost.com or follow me on Twitter at Miller_Dave