August 17, 2010 -
Dave Miller
Notre Dame media day notes
Notre Dame held its media day Tuesday in South Bend in preparation for its opener Sept. 4 at home against Purdue, and head coach Brian Kelly spoke to the press for about 40 minutes. Here are some of the highlights from the session:
Kelly on star receiver Michael Floyd: "He has single-handedly set the bar to where everyone else has to play." Not only was he impressed with his offseason workouts, but he noted that Floyd was "dominant" in the team's recent 11-on-11 drills. Keep in mind that Kelly had made comments earlier in the offseason that he felt Floyd received too much hype for too few results during his first two seasons on campus.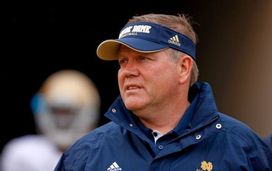 ICONNotre Dame head coach Brian Kelly addressed the press at the team's media day Tuesday.
True freshman Tommy Rees has closed the gap on No. 2 quarterback Nate Montana, according to Kelly, for the right to back up starter Dayne Crist. Rees is just one of many true freshmen who have been making noise in camp, including cornerback Lo Wood, receiver T.J. Jones and linebackers Prince Shembo and Danny Spond. The two true freshmen who also are vying for the backup quarterback gig, Luke Massa and Andrew Hendrix, have fallen off the pace in the race.
Tight end Kyle Rudolph may even get a chance to work out of the Wildcat formation, Kelly teased. However, running back Armando Allen and receiver Theo Riddick likely will be the ones to consistently line up in that formation when it is run. Keep in mind, though, that Kelly used 230-pound tight end Travis Kelce out of the Wildcat last season when he was at Cincinnati.
Kick returning duties will fall to Riddick and Cierre Wood, while Allen currently holds the edge over receiver John Goodman for punt returning duties.
At inside linebacker, Anthony McDonald and Carlo Calabrese are waging a tight battle right now. "Mac needs to be more physical, and Calabrese needs to be more finesse," Kelly said.
Kelly on the players embracing him as head coach since he replaced Charlie Weis: "All the players have done exactly what we've asked them to do. They knew there had to be a sense of urgency. They were sick and tired of being sick and tired too. It's just different leadership styles."
Follow me on Twitter at Miller_Dave or send your college football questions to dave.miller@nationalfootballpost.com
Click here to purchase the Total Access Pass / Fantasy Draft Guide from the NFP and receive a free Deuce Brand watch while supplies last.