August 14, 2014 -
Dave Miller
Notre Dame poised for its best offensive season under Kelly
Notre Dame head coach Brian Kelly tabbed Everett Golson on Wednesday as his starting quarterback for the season opener against Rice, which doesn't come as much of a surprise despite the fact that Kelly maintained that there was indeed a competition that was not "artificial" between Golson and Malik Zaire.
While Zaire has a bright future in South Bend, this starting job was always going to be occupied by Golson, the 6-foot, 200-pounder who started for the Fighting Irish in 2012. During that campaign, Golson threw for 2,405 yards and 12 touchdowns against six interceptions while adding 298 yards on the ground. He missed last season because of an academic suspension.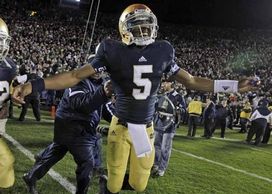 With a strong supporting cast, Everett Golson is primed for a huge year.
Despite Kelly noting that there would continue to be competition at the position, Golson is primed for a breakout campaign after taking every rep and excelling with the first-team offense in the two practices that were open to the media in fall camp.
Earlier this offseason I spoke to Kevin O'Connell, a former quarterback at San Diego State who went on to back up Tom Brady with the New England Patriots and is now an analyst at CBS Sports Network. O'Connell worked this offseason with noted quarterbacks coach George Whitfield, Jr., who has gained fame for his work with recent NFL Draft picks, including Johnny Manziel and Logan Thomas. In addition to Manziel and Thomas, O'Connell also helped Whitfield work with some of the standout college and prep QBs in the country, including Golson.
O'Connell had never met Golson before his visit this past spring but said he was impressed with his overall skill set. He was struck by his natural ability to spin the football with good velocity on his throws, and he said Golson's overall mechanics improved throughout the time spent in San Diego. The Irish dual-threat QB is in the best shape of his career and is ready for the physical grind of a full season. O'Connell said he was "really excited" for Golson's 2014 campaign and could not see a scenario in which he didn't win the starting job despite the presence of Zaire.
Golson helped the Irish get to the national championship game in 2012, although there were some growing pains along the way. Tommy Rees spelled him a few times when Kelly thought the moment was too big for the youngster and again when Golson was hurt. But despite relying on its outstanding defense, led by linebacker Manti Te'o, the team saw Golson play his best football in the month of November. However, he was never able to show his full skill set in the blowout loss to Alabama in the BCS title game. But this year could be different.
The Irish are a bit inexperienced on defense this season, so Kelly knows his offense must take a big step in its development. Lucky for the Irish that the pieces may be in place to do so.
The Irish ranked 67th in the nation last year in total offense at 406 yards per game. In four campaigns under Kelly, the squad has been ranked in the Top 50 in total 'O' just once, when it finished 35th in 2011. But Golson will be surrounded by a strong cast of playmakers, including a deep and competitive receiver corps, highlighted by DaVaris Daniels, Chris Brown, Corey Robinson and Will Fuller. Amir Carlisle and CJ Prosise will also be in the mix for what is certainly the strongest group Kelly has ever had.
On the ground, Greg Bryant could be poised to break through and emerge as the No. 1 running back, although Tarean Folston and Cam McDaniel are battling for carries as well. Bryant and Folston are the two most talented backs on the roster, and they are pass-catching threats out of the backfield as well. Along with tight end Ben Koyack and an offensive line that is deep despite the losses of Chris Watt and Zack Martin, the Irish are primed to put up plenty of points in 2014.
But, as is often the case, navigating a difficult schedule is the biggest concern for ND. However, because of Golson's strong offseason, Kelly and his staff should be at ease knowing that there should be consistency at the quarterback position throughout the year. And that's an awfully important factor at a school where the spotlight shines especially bright at that critical position.
Dave Miller, the college football editor for the National Football Post, is on Twitter @Miller_Dave.