September 04, 2010 -
Dave Miller
Notre Dame postgame notes
Brian Kelly notched a victory in his Notre Dame head coaching debut Saturday against Purdue at sunny Notre Dame Stadium in South Bend, Ind. The Fighting Irish beat Danny Hope's Boilermakers 23-12 and will now turn their attention to the battle next week against Michigan, which defeated Connecticut in its opener. Here are some postgame notes from ND's contest against the Boilermakers.
Fast-paced offense
This will not be your father's, grandfather's or great-grandfather's Notre Dame football team on offense. It was incredible how fast the coaching staff was sending in the plays and how quickly quarterback Dayne Crist and the Irish were lining up to take the next snap. Kelly wasn't joking when he said the team would need to be in better condition to play at a faster pace. NBC play-by-play announcer Tom Hammond even had to go at a faster pace so he wouldn't fall behind. Houston, with quarterback Case Keenum, led the country last season in plays per game by averaging 82. I don't know if we'll see that from ND in 2010, but you may want to limit your bathroom breaks.
Clausen who?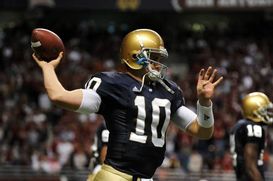 ICONDayne Crist ran ND's new offense rather smoothly in the season opener.
Crist began his tenure as the new starting quarterback in South Bend on a high note. I liked how Kelly gave him time to settle down and calm the nerves with a heavy dose of short passes early in the game. Then, the former Cincinnati coach opened up the playbook a bit and Crist was able to look for Michael Floyd and Co. down the field. Mixing in a nice blend of runs, Crist was fairly crisp throughout the contest, finishing 19-of-26 for 205 yards with a score and no interceptions. And he answered the health question: his repaired knee looks fine. In fact, Crist is a decent running threat out of the backfield on broken plays. He did overthrow tight end Kyle Rudolph in the end zone in the first half, forcing the team to settle for a field goal, and he still doesn't have the greatest of touch on the ball. But we saw a steady signal-caller on Saturday, and we saw glimpses of just how prolific this offense could be this season.
The ground game
Armando Allen didn't seem to have a real burst early in this game. But then sophomore Cierre Wood entered the contest and displayed the shiftiness that has the entire staff excited about a commitment to the run. Did Wood's immediate success provide a wakeup call of sorts for Allen? Perhaps, as the senior scored the game's first touchdown and also had a great punt return that set up another score. Woods had four carries over 10 yards in the game, and Allen will be productive in this scheme, as he finished with 93 yards on 18 carries. Charlie Weis may have been hesitant to keep the ball on the ground, but not Kelly.
Offensive balance
Despite the fact that Kelly has employed a pass-happy spread attack in the past, this year's Notre Dame squad will be a bit different. Kelly knows the offensive line is a strength — particularly the interior. And with three solid backs, the Irish are going to run the ball. We will still see plenty of Floyd, freshman T.J. Jones, slot man Theo Riddick and Rudolph. But Crist won't have to throw the ball 45 times a game for the Irish to consistently win. Overall, we saw a very balanced offensive attack on Saturday afternoon.
However, we also saw some of the positives being balanced out with some negatives — Floyd fumbled near the goal line on almost a sure touchdown catch, Allen was stuffed for a safety due to miscommunication on the line, and Allen put the ball on the ground early before quickly recovering. In addition, Notre Dame couldn't block Purdue defensive end Ryan Kerrigan — although it's likely that the best tackles in the Big Ten will have their problems with Kerrigan, as well.
Getting defensive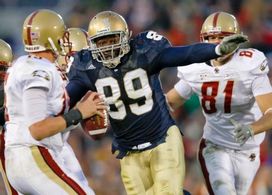 ICONKapron Lewis-Moore was active as a pass rusher against Purdue.
The Irish struggled against a questionable Purdue rushing attack that was missing Ralph Bolden. Boilermakers backup quarterback Rob Henry posed problems, channeling his inner Tim Tebow and giving the defense some fits in the red zone on some quarterback keepers. Then, starting signal-caller Robert Marve went untouched for a 23-yard touchdown on a 4th and 1. It will be interesting to see how the Irish are able to handle quarterback Denard Robinson next week against Michigan.
The Irish pass rush really came to life as the game progressed, though, and it was evident that the defensive line was a veteran group. Coordinator Bob Diaco's unit looked a lot different than the Jon Tenuta defense.
The most important aspect of the defense, however, was the fact that the Irish were much better at tackling — specifically by the members of the secondary. That was a killer the last few seasons, and it led to many losses in close games. And inside linebacker Manti Te'o has really improved his pass defense — a lot.
Of note, Darrin Walls picked up his third career interception, while Ian Williams also had a pick on a deflection when the Boilers had a fourth-and-one near the goal line.
Special special teams
The Irish actually may be deep at kicker this season. David Ruffer, a transfer from William & Mary who beat out sophomore Nick Tausch, connected on all three field goal attempts — including nailing a career-long 46-yarder.
It's impressive that he was even able to steal the job from Taush, who made a school-record 14 straight field goals during a stretch last season but missed the final three games after injuring his foot.
Follow me on Twitter at Miller_Dave or send your college football questions to dave.miller@nationalfootballpost.com
Click here to purchase the Total Access Pass / Fantasy Draft Guide from the NFP.