April 22, 2013 -
Dave Miller
Notre Dame spring game notebook
Notre Dame held its annual Blue-Gold spring game on Saturday before 31,652 fans at Notre Dame Stadium in South Bend.
Here are some of my takeaways from the contest — including the two-point conversion by nose guard Louis Nix III, which you can view below. Highlights courtesy of UND.com.
No offense, no problem: There's no need to worry about an offense whose lone touchdown on the day came from early enrollee Malik Zaire, a quarterback who completed high school four months ago. He threw a 35-yard touchdown pass to C.J. Prosise, who switched from safety to wide receiver this spring. Head coach Brian Kelly reiterated after the game that he wasn't concerned about the lack of production on offense because the staff had seen improved play from the unit throughout the spring. Starting quarterback Everett Golson was 6-of-13 passing for 98 yards with one interception and was sacked three times (there was no actual hitting allowed on quarterbacks, however). The pick he threw in the second quarter was thrown when he thought a cornerback blitz was on but wasn't. Golson expected George Atkinson III to make a cut inside, but the running back didn't, so safety Matthias Farley made the INT in the end zone. While Kelly maintained that he isn't concerned about the general state of the offense, he did tell NBC on the field that Golson had reverted to some of his "playground football" tendencies. The good news for the Irish is that those "playground" tendencies are what makes Golson so effective if he is not turning the football over. His inaccuracy shouldn't be alarming though because he did reportedly have a strong spring. There will be plenty of time in preseason camp to get this unit in sync.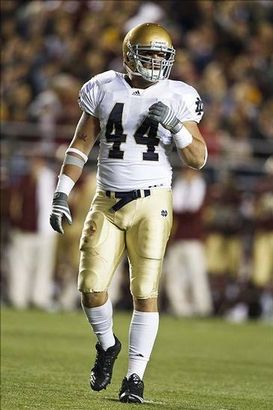 Carlo Calabrese and the Irish defense will be strong once again in 2013.
The defense is still dominant: No Manti Te'o, Zeke Motta and Kapron Lewis-Moore? No problem. The Irish recorded 10 sacks, two interceptions and a safety, which has to make coordinator Bob Diaco very happy. Overall the Irish defenders were hitting hard, which is nice to see considering it was a spring game. Carlo Calabrese had a huge hit on Atkinson III late in the first half, Jarrett Grace picked up 8 tackles as he looks to step in for Te'o, and Ishaq Williams showed that he has the ability to drop into coverage and rush the passer. The Irish, though, need Bennett Jackson to get healthy because the cornerback depth just isn't there right now.
The running backs: Atkinson finished the day with 49 yards on 10 carries, including a 2-yard gain up the middle on fourth-and-1. The one major issue for Atkinson is he is still running with a really high pad level. He definitely has great speed, but can he hold up as a No. 1 back running that high? Meanwhile, Cam McDaniel will definitely be in the mix for carries, and Will Mahone could be a nice pass-catcher out of the backfield because he displayed good receiving ability Saturday.
It's difficult to make a lot of declarative statements after a spring game, but expect the Irish defense to once again be strong in 2013. And expect the offense to continue to improve as Golson is given more rope.
Other notes
— Nick Martin is the likely starting center. He held his own against Nix, so he'll be fine against other nose guards in the fall.
— Troy Niklas continues to make strides as he replaces Tyler Eifert at tight end. His blocking will always be good, and he had a couple of catches as well.