April 18, 2013 -
Dave Miller
Notre Dame spring game preview
Notre Dame will hold its annual Blue-Gold spring game on Saturday at Notre Dame Stadium in South Bend, and the contest will once again contain a unique scoring and clock management format.
There will be no kickoffs, no punt returns and no extra points, and the game will have a running clock in the second half due to the two-hour coverage being provided by NBC Sports Network. In addition, quarterbacks are off-limits from contact.
But there is still plenty to look forward to if you are a fan of the Irish. Here are some things to watch on Saturday:
The new play-caller: Head coach Brian Kelly has ceded play-calling duties over to offensive coordinator Chuck Martin, who moved over to offense before last season after serving as the team's safeties coach. Martin has had success calling plays in the past, as he oversaw strong units when he was the head coach and play-caller at Grand Valley State, where he won more than 90 percent of his games and two national titles. It will be interesting to see if Martin will also be calling plays in the fall or if this is an experiment exclusively for the spring game. But it could be a very good idea for ND as it will free Kelly up to be more of an administrator on game days, and it's something that Lane Kiffin should consider doing at USC as well.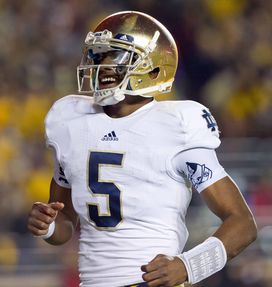 US PRESSWIREEverett Golson and the Irish offense will play at a faster pace on Saturday.
The up-tempo pace: Another thing to watch this weekend is the tempo in which the offense will operate, as Kelly wants his team to continue to play faster and faster to keep opposing defenses off balance. While we will still see the Irish huddle up and emphasize the power run game, Kelly wants to utilize the up-tempo, no-huddle tactic a lot in 2013. And he'll be able to do so because the game will continue to slow down for dual-threat signal-caller Everett Golson, who is maturing under center and who will have an opportunity to take more shots down the field this fall with a deeper receiving corps.
The RB rotation: With Theo Riddick graduating and Cierre Wood leaving early for the NFL, junior George Atkinson III will get his chance to become ND's featured back. The Irish coaching staff has high hopes for the 6-1, 210-pounder after he averaged 7.1 yards per rush and had five rushing touchdowns in 2012. He has the big-play ability that the Irish will be dependent upon next year, and Kelly has said that he's had "a very, very good spring." He will get a ton of first-team snaps along with junior Cam McDaniel while Amir Carlisle remains sidelined. And keep an eye on Atkinson in the passing game on Saturday, as he has made his biggest improvement coming out of the backfield. The Irish tailbacks will have one final chance to impress the coaching staff before top recruits Greg Bryant and Tarean Folston arrive this summer.
Other notes
— Here is a breakdown of how the scoring is expected to be tabulated on Saturday:
In addition to earning three points for a field goal, six points for a touchdown and two points for a two-point conversion (no extra points), the offense will also get two points for a passing play of 20 yards or more, two points for a running play of 15 yards or more and two points for two consecutive first downs within a drive.
In addition to being able to score on an interception return, a fumble return and a safety, the defense can also score four points for a stop inside the 50-yard line, two points for a stop beyond the 50, seven points for a turnover inside the 50, three points for a turnover beyond the 50, one point for a forced field goal and two points for a three-and-out.
— There are some players unavailable for the game. Starting linebacker Dan Fox and starting cornerback Bennett Jackson will be sidelined, as will running back Amir Carlisle and safety Nicky Baratti. In addition, defensive end Chase Hounshell and early-enrollee wide receiver Corey Robinson will also be onlookers. Carlisle, who suffered a broken collarbone and underwent successful surgery, was in pads Wednesday for the final practice of the spring after participating in non-contact practice since April 3.