March 23, 2011 -
Dave Miller
Notre Dame spring practice preview
Michael Floyd's absence due to his indefinite suspension will certainly take center stage as Notre Dame opens spring practice on Wednesday. But as he stressed on Tuesday morning, head coach Brian Kelly is focused only on those players who will be participating in spring drills. Let's take a look at some roster notes from Kelly's pre-spring presser:
• Rising sophomore Daniel Smith and senior John Goodman now sit atop the depth chart at Floyd's "W" receiver position. While it's uncertain if and when Floyd will return, other players will have the opportunity to step up in his absence.
"You don't get much time in the spring," Kelly said. "If you're waiting around, dreaming and hoping, you're going to miss great opportunities to develop your players."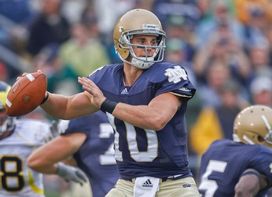 ICONDayne Crist will be available for ND's quarterback competition this spring.
• Quarterback Dayne Crist will be limited following knee surgery, but he likely will be involved in a similar program as he was last year while recovering from ACL surgery. He should participate in many of the team drills but withheld from live contact. Because of his availability, Crist's presence will give the Irish an opportunity to hold a fair competition under center. Kelly said he would like to have an established pecking order by the end of spring but is unsure how it will unfold.
"My expectations are that it's going to be a very competitive situation at quarterback," Kelly said, "and Dayne can include his name in that competitive battle."
Sophomore-to-be Tommy Rees will also be at the center of the battle after going 4-0 while filling in for Crist in 2010. While Crist and Rees will be off-limits to contact, fellow signal-callers Andrew Hendrix and Everett Golson will be available to get tackled so Kelly has an indication of how they run in live action. Hendrix is mobile with a quick release while Golson is an early enrollee who is a prototypical spread quarterback.
• While it looks as though Theo Riddick will remain in the slot, expect him and running back Cierre Wood to shift all over the field.
• Junior linebacker Manti Te'o will see limited action after undergoing arthroscopic knee surgery this winter. ND's leading returning tackler suffered a knee sprain in the Sun Bowl victory over Miami.
• Senior defensive lineman Sean Cwynar had surgery on a foot fracture and is in a boot, thus will not participate in the spring. Cwynar previously was recovering from offseason back surgery.
• Former receiver Austin Collinsworth has moved to safety because the coaching staff loved his tackling and instincts on special teams last year. The 6-1, 200-pounder was recruited as a safety by several colleges before enrolling in South Bend.
• Bennett Jackson has moved from receiver to cornerback.
• Early enrollee Brad Carrico, recruited as a defensive lineman, will move to the offensive line.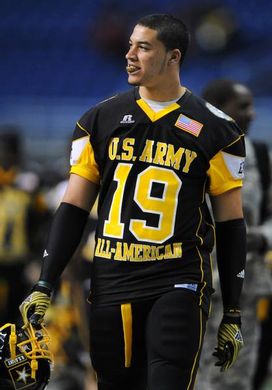 ICONPhysically, Aaron Lynch is an imposing true freshman defensive lineman.
• Defensive end Aaron Lynch, an early enrollee from ND's strong Class of 2011, received some high praise from Kelly.
"Aaron Lynch, physically, he's as developed as some of our juniors and seniors," he said of the 6-6, 260-pound defensive end. "Physically he looks great. But as we all know, you have to play the game more than just physically."
• Keep an eye on senior wide receiver Deion Walker. The 6-3, 200-pounder, who has only caught one pass in his college career and has not seen any game action since Kelly arrived, has impressed the staff with his work ethic this offseason.
"I want to really put the 11 best players on the field that give us the best chance to beat South Florida," Kelly said, referencing the Sept. 3 season opener against the Bulls. "So we immediately have to be able to look at that when we step out on the practice field."
That process begins bright and early on Wednesday morning.
Email dave.miller@nationalfootballpost.com or follow me on Twitter at Miller_Dave