September 12, 2012 -
Dave Miller
Notre Dame to join the ACC
Notre Dame will announce that it is joining the ACC later Wednesday, according to Brian Hamilton of the Chicago Tribune.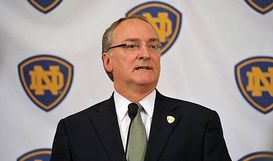 Athletic director Jack Swarbrick and the Fighting Irish are on the move.
While the Fighting Irish will remain independent in football and the hockey program will join Hockey East, it is expected that all other sports will be a part of the ACC after the school exits the Big East.
Brett McMurphy of ESPN.com is reporting that the Fighting Irish will play five football games annually against the ACC. Of course, the Irish have a few natural rivals already in the ACC, including Boston College, Miami and Florida State.
The move of the Irish to the ACC was one of several rumors that had made the rounds over the last few offseasons as the landscape of college athletics shifted due to conference realignment and expansion. Now, if Notre Dame ever decides to join a conference for football, it's likely going to be the ACC. In the past, Notre Dame has had discussions with the Big Ten, while the Big 12 was the latest conference that was looking to broker a deal with the Irish.
According to Pete Thamel of SI.com, the timing of an ND departure from the Big East is "very murky." As of now, the earliest the Irish could leave the Big East without penalty is 2015. Big East bylaws require universities to give 27 months notice if they plan to leave, though West Virginia, Syracuse and Pittsburgh have been able to negotiate early departures from the Big East.
One of the major fallouts of this move could be Notre Dame losing nonconference games against traditional Midwest rivals such as Michigan, Michigan State and Purdue. Games against academies other than perhaps Navy could also get sacrificed, as the Irish will likely make it a priority to retain a West Coast presence by continuing to play games against USC and Stanford.
Email dave.miller@nationalfootballpost.com or follow me on Twitter at Miller_Dave