January 06, 2013 -
Dave Miller
Notre Dame vs. Alabama: Aerial attack is key for Irish
There are numerous ways to break down the BCS national championship game between No. 1 Notre Dame and No. 2 Alabama, which will take place Monday night at Sun Life Stadium in Miami.
But one of the most important aspects of this game for the Fighting Irish is their offensive productivity through the air, as head coach Brian Kelly and offensive coordinator Chuck Martin understand that having offensive balance is critical to moving the football against one of the nation's top-ranked defenses.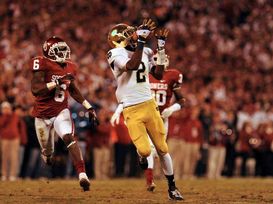 US PRESSWIREA big play or two from a receiver such as Chris Brown would help the Irish immensely on Monday night.
Before the Irish played USC I wrote about one of the biggest plays of Notre Dame's season, which occured against Oklahoma when dual-threat quarterback Everett Golson hit freshman wide receiver Chris Brown for a 50-yard gain when the Irish needed to respond to a momentum swing by the Sooners. Although the Irish had been reliant on a prolific power run game, a dominant defense led by a fierce front seven and just enough good quarterback play at the right time from Golson and traditional pocket passer Tommy Rees, Kelly and Martin believed in Golson at that moment. And they believed in Brown.
The Sooners had just scored to tie the game, and Golson returned to the field in a hostile environment on the road against a Top 10 team needing to put together a drive to get the Irish back on top. The long completion was huge for the Irish because not only was it one of the defining moments of Golson's young career, but it was off of a play-action pass on 2nd-and-2. Play-fakes can be huge for the Irish against this Alabama defense Monday night, and netting a few big plays through the air could be exactly what ND needs to take the crystal football to South Bend.
Receiver DaVaris Daniels is back from a broken clavicle suffered November 10 and is expected to play, which is a nice boost to the Notre Dame passing attack. Along with Brown, Daniels gives Golson another deep threat to go along with steady weapons in TJ Jones, Robby Toma and John Goodman.
And then there's Tyler Eifert, who won the Mackey Award as the nation's top tight end. When the Irish split Eifert out as a receiver, he is nearly unstoppable because he is a nightmare for smaller cornerbacks and safeties as well as slower linebackers. But he has not been a top target throughout the season because of the Irish's run-first mentality as well as growing pains in the passing game. But expect him to be a big part of the game plan Monday night, as he will be a top option if the 6-6, 250-pounder can find his way into seams. Running back Theo Riddick will also pose problems when he leaves the backfield and goes out wide.
Although Alabama is ranked No. 8 in pass efficiency defense, it can be exposed. Deion Belue, who starts opposite Dee Milliner, could be susceptible to a big play. And safeties Robert Lester and Vinnie Sunseri along with linebacker Nico Johnson are better in run support than against the pass. That's why throwing the football on traditional running downs will be vital for the Irish, to maximize their personnel advantages as much as possible.
If Golson can hit a couple of big plays and record some big-chunk gains, it will increase the chances of the Irish preventing the Tide from repeating as national champions.
Kelly landed the job at Notre Dame because of his offensive creativity, so we'll see what he has in store for the Tide with Golson through the air.