September 20, 2010 -
Dave Miller
Notre Dame WR Floyd still having ball-control issues
The breakout game that Notre Dame slot receiver Theo Riddick enjoyed Saturday night against Michigan State — 10 catches for 128 yards and a touchdown — helped open the field up for star wide receiver Michael Floyd, who had yet to make much of an impact on the stat sheet through ND's first two games.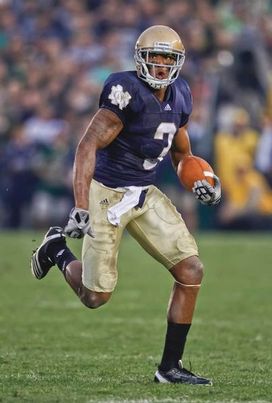 ICONMichael Floyd fumbled in the red zone against Michigan State Saturday night.
Head coach Brian Kelly also moved Floyd around in different formations so he wouldn't get caught in short-field areas and have coverage from the Spartans over the top with a safety.
Those two factors were critical in helping Floyd log six catches for 81 yards and two touchdowns in the overtime loss.
However, the future pro continued to be plagued by ball-security issues.
Floyd fumbled in the red zone for the second time this season — his first occurred in the opener against Purdue — when Michigan State's Chris Norman knocked the ball out of his hands in the second quarter at the Spartans' 11-yard line.
"We just clearly have to take care of the football," Kelly said. "He's a big, strong kid. There's no excuse why the ball should be on the ground. That's something he's gotta do. We coach it every day. He's gotta pick up his end and make sure he secures the football."
Follow me on Twitter at Miller_Dave
Click here to win cash today playing fantasy football with the NFP and FanDuel.