August 03, 2011 -
Dave Miller
Notre Dame's Kelly reinstates WR Floyd
As has been expected for roughly four months, Notre Dame head coach Brian Kelly reinstated star wide receiver Michael Floyd Wednesday as an active member of the football team.
Kelly suspended the senior on March 21, a day after the St. Paul, Minn., native was arrested on campus and charged with drunk driving. It was Floyd's third alcohol-related charge since enrolling at the school.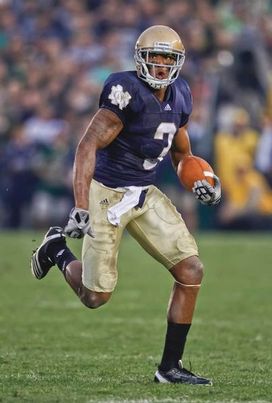 ICONWR Michael Floyd has been reinstated to the Notre Dame football team.
Floyd and Kelly will appear at a press conference to discuss the reinstatement Wednesday afternoon at 3 p.m. ET. The head coach and receiver did respond to the news, however, Wednesday morning.
"From the very beginning of this process, Michael knew what was expected for him to be a member of our football program," Kelly said. "I told Michael that football needed to become of less importance to him while he worked on personal growth.
"Over the last four months, Michael impressed those that had close contact with him including professional advisors. Based on my own observations, I am very pleased with the progress Michael has made since March.
"That is why I am comfortable reinstating him to our football team. Michael knows that he must continue on this positive track. I look forward to witnessing the development he has made based on lessons learned from this situation and how that will lead to better choices in the future."
Floyd responded to his reinstatement in a release.
"The last four months have been the most humbling stretch of time in my life," Floyd said. "I embarrassed myself, my family, the university, my football team and many more people.
"I know it will take time to earn the trust and confidence from everyone I let down last spring, but I am prepared to do so and will strive to become not just a leader on the team again, but one also in the community. I am grateful for the opportunity to earn my degree this year from the University of Notre Dame and I look forward to reuniting with my football family this fall."
The 6-3, 227-pound Floyd caught 79 passes for 1,025 yards and 12 touchdowns last season.
Fall practice for the Fighting Irish begins Saturday. The team kicks off the 2011 season Sept. 3 in South Bend against Skip Holtz and the South Florida Bulls.
Email dave.miller@nationalfootballpost.com or follow me on Twitter at Miller_Dave