October 25, 2012 -
Dave Miller
Notre Dame's keys to victory at Oklahoma
Notre Dame takes its stingy defense, allowing just 9.4 points per game, into Norman on Saturday night to battle Oklahoma, which is suddenly back in the BCS national championship game race after an early-season loss to Kansas State.
So how can the Fighting Irish thwart a Sooners offensive attack that is averaging 44.7 points per game?
Let's take a look at what Brian Kelly's squad has to do to remain unbeaten.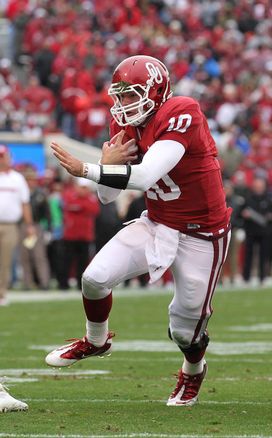 US PRESSWIRECan the Irish contain Blake Bell inside the red zone?
• Red-zone clamp-down: We saw Notre Dame's stout defense snuff out a Stanford game-ending drive a few weeks ago, as Cardinal running back Stepfan Taylor was unable to get into the end zone in the Irish win. But while the Stanford run game behind its O-Line is quite formidable, it is nothing compared to OU's goal-line offense, which is pretty much unstoppable. The power run game in the red zone has been very productive for the Sooners, and backup quarterback Blake Bell has had a huge role. In the "Belldozer" package, the signal-caller is able to use his power and push through after initial contact. But he's not just a plower; he's patient and is able to read his blocks well behind a wall that sometimes consists of six offensive linemen. Granted, OU hasn't faced a front seven such as Notre Dame's. But ND hasn't faced a red-zone package such as OU's either. Also keep an eye on Trey Millard, who is more than just a lead blocker as we saw in the game against Texas. He could be deadly as a receiver out of the backfield near the goal line, especially when ND thinks Bell is going to keep it and run.
• Be disciplined against the screen: While Damien Williams has been vital to the OU rushing attack this fall, he is likely going to struggle to find a lot of running lanes against an ND front that features nose tackle Louis Nix III, end Stephon Tuitt and inside linebacker Manti Te'o. The Sooners will try the power attack just to test ND early, but even utilizing two fullbacks won't provide much running room for Williams against a beefy defensive line. But Irish defensive coordinator Bob Diaco must be cognizant of OU co-offensive coordinators Josh Heupel and Jay Norvell employing screens as a default ground game. If for nothing else, OU will try to ground it out just to set up play action and negate the Notre Dame safeties. We have yet to see Irish cornerbacks Bennett Jackson and KeiVarae Russell exposed this year. And while a lot of OU's pass plays are not deep throws, look for quarterback Landry Jones to take some shots down the field, especially on play action, so those corners have to make some plays on the outside. Receiver Kenny Stills must be able to have one or two big plays for this OU offense to have some breathing room.
• Pressure Jones: We've seen "Good Landry" and "Bad Landry." The OU signal-caller is very good when he has time and is not pressured, as is the case for most quarterbacks. But if he feels pressure, he can make mistakes. The Irish have the rushers up front to pressure Jones, specifically Tuitt. Look for OU to keep an extra player in the backfield for added pass protection and to give Jones extra time. The Sooners quarterback doesn't move well when he's on the run, however, and the Irish will look to make him uncomfortable with pressure both inside and off of the edges. It will be interesting to see if Diaco has some added wrinkles for this matchup against Jones.
• A turnover-free offense: Notre Dame's ground game has finally hit its stride under Kelly, with Cierre Wood, George Atkinson III and Theo Riddick giving the Irish consistent production from the tailback position. But the Irish will face a stiff test from OU's front, where Jamarkus McFarland and Casey Walker have been having standout seasons. Everett Golson's legs could be needed more than ever on some option plays if a traditional downhill attack is kept in check. And Golson will also need to deal with the hostile crowd in Norman. We'll unquestionably see Tommy Rees as well, as Kelly trusts him to come in and move the offense. For the Irish to steal this road game, Golson and Rees must remain turnover-free. How will Rees deal with the OU pass rush? And can Golson keep calm while dealing with a difficult road atmosphere?
Certainly, the Fighting Irish have quite the test Saturday night on the road against a team that struggled to protect the football in its lone loss to Kansas State. But OU has been dominant the past three weeks in conference play, winning games by margins of 21, 42 and 45 points. This game should be close the whole way through, but OU's defense has certainly been revitalized under Mike Stoops. That could be the difference.
Email dave.miller@nationalfootballpost.com or follow me on Twitter at Miller_Dave