March 25, 2012 -
Dave Miller
Notre Dame's Kiel: LSU 'wasn't the best fit for me'
The four Notre Dame quarterbacks competing for the starting job in the fall met with the media for the first time this spring on Saturday, and all eyes were on Class of 2012 top recruit Gunner Kiel.
Kiel, who was once committed to Indiana and LSU before choosing to enroll in South Bend, discussed with the media why choosing to play for head coach Brian Kelly was the right choice while he was being heavily recruited at Columbus East (Ind.) High School. And he also dismissed comments by LSU head coach Les Miles, who questioned his leadership abilities on National Signing Day.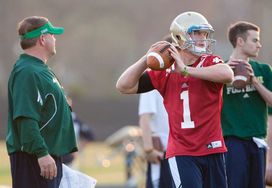 Gunner Kiel is happy the recruiting process is over and that he could focus on football.
"You can't really control that," Kiel said when asked about the comments made by Miles. "I did pull out at the last minute. I still have all the respect for LSU. Their fans definitely understood. LSU is a great place, but it wasn't the best fit for me. I'm a Midwest guy and I like to stay close. I'm just going to use that as fuel, but I'm not going to disrespect him in any way, shape or form. He's a great coach and they're a great team.
"But I feel great to be at Notre Dame. Love the place, love the guys, love the coaches, love the surroundings. It's a great community, they're all welcoming, everyone is really nice. It's definitely the perfect fit for me."
Kiel said he put a lot of stress on himself during the recruiting process, which prompted him to continue to push back his decision and change his mind more than once.
"Things got pretty hectic with recruiting," he said. "But I had a great supporting cast behind me. My family was always there for me, my friends. Staying close definitely meant a lot. Of course I want my family to come and watch me play. And knowing that I can go home on the weekends, I can get away from something crazy. If I have a rough week, I can go home on a weekend and recharge my batteries. I thought that was definitely huge for me."
The 6-4, 215-pound Kiel, who graduated early from high school to enroll in South Bend this winter, threw for over 2,500 yards and ran for nearly 500 more in his senior season, tossing 28 touchdowns and running for 11 more scores along the way. He is happy that the recruiting process is finally over and he is doing what's comfortable: competing on the field.
But winning the starting job won't be easy.
Kelly has stated that all four players competing for the gig -- incumbent Tommy Rees, rising junior Andrew Hendrix, soon-to-be sophomore Everett Golson and Kiel -- will have an equal opportunity at starting the opener on Sept. 1 against Navy in Dublin, Ireland. However, despite Kelly simplifying the offense to make sure everyone competes at a fair level without Rees having an edge because of his starting experience, it's difficult to imagine Kiel being able to completely absorb and master the offense by the opener. Still, this competition will likely last through preseason camp in the fall. And Kiel doesn't plan on going anywhere.
While he's been impressed with the other signal-callers, Kiel is focused on soaking up as much as possible in his initial days on the ND practice field. And he's certainly happy that the difficult recruiting process is very much in the rearview mirror.
Email dave.miller@nationalfootballpost.com or follow me on Twitter at Miller_Dave