December 07, 2012 -
Dave Miller
Now the real work begins at Tennessee
After all of the big names were discussed for weeks on national websites, message boards and Twitter, Tennessee finally has its new head coach.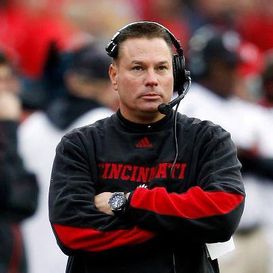 Butch Jones has a 50-27 record in six seasons as a head coach.
Volunteer fans may be bitter that neither Jon Gruden, Mike Gundy nor Charlie Strong is coming to Knoxville, but athletic director Dave Hart landed a head coach in Butch Jones who is actually 2-1 against Strong in his career. The bad news is that the dismissed Derek Dooley actually beat Jones' Cincinnati squad.
But there is no denying that Jones has proven to be a successful FBS head coach, and there's a reason why he was being heavily pursued by Purdue and Colorado. Tennessee didn't contact Jones about the job until Thursday morning because there were other candidates in the mix, so Jones will always be looked at essentially as Plan E. But that should not take anything away from his credentials. Many coaching searches end up progressing such as the one that occured at Tennessee. Keep in mind Pete Carroll wasn't exactly USC's top choice. It's just that the job in Knoxville is considered prime, so it was surprising that Hart's search became messy.
The question now is whether the 44-year-old Jones can successfully build an SEC program in a high-profile spot after doing his best work at Central Michigan and Cincinnati following Brian Kelly. He has a 50-27 record in six seasons as a head coach, and he is now tasked with taking over a program that has posted three consecutive losing seasons. Jones won with Kelly's recruits, and that's not to take anything away from him. He won four league titles in six seasons. He will just have to prove now that he can put together a tireless staff that is dedicated to the grind of recruiting in the toughest conference in America.
There's no question there's talent already on the Vols roster. The problem is depth. If Jones can land an accomplished defensive coordinator, Tennessee can be a player again in the SEC East sooner than expected. Just look at what Jim L. Mora was able to do in his first season at UCLA.
According to a Tweet from Bruce Feldman of CBSSports.com, Jones received a deal for $18 million over six years. It is likely that his assistants will be paid well, too. A big bonus in hiring Jones, as well, is his strong record in improving academics at Cincinnati. That has been as issue in Knoxville the last few seasons.
Will Jones be a success in Knoxville? We shall see. But Volunteer fans should be happy to have a coach with a successful track record. That wasn't the case with the school's previous couple of hires.
Email dave.miller@nationalfootballpost.com or follow me on Twitter at Miller_Dave