April 26, 2012 -
Dave Miller
Obstacles still remain in the way of a playoff
The BCS meetings focusing on a new college football postseason model continue in South Florida, and it appears that a four-team playoff system will become a reality despite an outside chance that a simple tweaking to the current system could occur to determine a final showdown of No. 1 vs. No. 2.
While that scenario remains a very outside possibility, all of the major decision-makers are finally open to change, and it appears that four is the magic number. The issue now is how those four squads — likely to compete in two semifinal games with the winners meeting in a championship game — will be determined.
Conference commissioners need to decide if a selection committee will select the teams or if the BCS standings will be overhauled to include, among other factors, strength of schedule. All the reports out of South Florida state that a potential playoff would not be limited to only conference champions, but there remain some individuals involved in these talks who wish for the pool to include conference champs only. Of course, Alabama did not win the SEC championship last season but defeated LSU in the BCS title game.
Nothing will become official until this summer after each conference commissioner meets with reps from his respective league. Of course, issues such as game sites and dates must also be discussed, as well as how the bowls fit in, the status of automatic qualifiers and revenue sharing. It doesn't appear that semifinal games will be played on campus sites, with SEC commissioner Mike Slive citing how the NCAA basketball tournament is played at neutral sites.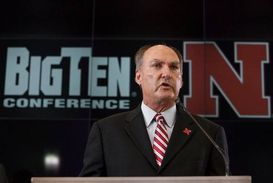 Big Ten commissioner Jim Delany wants to protect the Rose Bowl in some fashion, but as of now it's unclear how that will occur.
One of the key issues has been how the Rose Bowl fits into a potential playoff equation. Pac-12 commissioner Larry Scott believes a four-team playoff can work with the Rose Bowl and other bowl games being involved. Big Ten commissioner Jim Delany wants to protect the Rose Bowl in some fashion but was unclear Wednesday on how that would occur.
Meanwhile, Mountain West commissioner Craig Thompson already hinted that revenue talks will be "contentious" when they begin. Of course, the next BCS contract will carry a huge dollar amount, so criteria will need to be in place to decide how much money each conference and school gets from this large pool of money.
Despite there being obstacles to overcome, the biggest breakthrough for this sport is the fact that Slive, Delany and others have finally opened up to much-needed change, and a college football postseason that was always exciting is primed to become even more intriguing.
Email dave.miller@nationalfootballpost.com or follow me on Twitter at Miller_Dave