July 04, 2014 -
Dave Miller
O'Connell 'so impressed' with Golson's overall skill set
Recently I chatted over the telephone with Kevin O'Connell, a former star quarterback at San Diego State who went on to back up Tom Brady with the NFL's New England Patriots after being a third-round pick in the 2008 NFL Draft.
This offseason O'Connell worked with respected quarterbacks coach George Whitfield, Jr., who has gained notoriety for his work with some of the top NFL Draft picks over the last few seasons. The pair helped prepare both Johnny Manziel and Logan Thomas for this past May's draft, and they also worked extensively with some of the bigger-name college and prep QBs in the country.
Here are some nuggets from my chat with O'Connell, who gave his thoughts on some of the signal-callers he's worked with this offseason:
Notre Dame QB Everett Golson: O'Connell had never met Golson before his visit this past spring around Memorial Day, but he said he was "so impressed with his overall skill set." He said the 2014 version of Golson is now bigger and stronger for the physical grind of a full season, and he was impressed with his natural ability to spin the football and the velocity he is able to put on his throws. He says Golson's footwork was constantly improving during his workouts, leading to better overall mechanics. While he had a limited viewing sample size, O'Connell said he's "really excited" for Golson's 2014 campaign and can't see a scenario in which he doesn't win the starting job despite the presence of Malik Zaire, who had a strong spring in South Bend and remains in the mix for starting duties.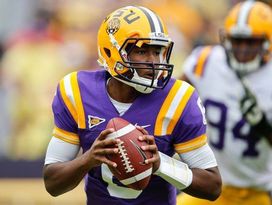 Brandon Harris could be the first true freshman to start at QB for LSU.
LSU QB Brandon Harris: O'Connell said that Harris "has the complete skill set" and that he really benefitted from the reps he received in spring as an early enrollee. O'Connell knows the Cam Cameron offense "very very well" and said the OC "doesn't try to make things too complicated." He said Harris has the ability to stretch the field and make plays. He also has "no doubt" that true freshman wide receiver Malachai Dupree could contribute right away (Dupree was also in camp with Harris). O'Connell called Dupree "physically gifted" with good leaping ability and huge hands. Overall, he believes LSU's run-first mentality will only help Harris because he won't be asked to do too much right away — but the ability is there to be a special signal-caller.
Virginia QB David Watford: O'Connell saw Watford on two different occasions this offseason (in spring for a week and then again after Memorial Day). He said he definitely has the "natural ability" but that the "next step for him is between the ears." The two watched tape together, and he said a lot of times the "third and fourth progressions were wide open and he missed them." O'Connell likes the Virginia offense, though, because it is pro-style with spread elements — it has NFL principles in terms of schemes and protections. Watford is certainly a player to watch in an ACC that doesn't have a ton of experience coming back under center league-wide.
Baylor QB Bryce Petty: O'Connell said he is a big fan of Petty's "want to" attitude as well as his "will to get better." He said Petty understands that Baylor's scheme is designed to let him put up big numbers, so he's eager for "advanced learning now" so he can better prepare for the NFL, such as how you protect against certain blitzes and attack different kinds of defenses. O'Connell was impressed with Petty's arm strength, accuracy, toughness and good footwork. He's "really excited to watch him play" this fall as the Bears look to repeat as Big 12 champs.
Michigan State QB Connor Cook: O'Connell said he became familiar with Cook late last season when he was making "big-time throws in the Big Ten title game and the Rose Bowl." After meeting with him this offseason, he found that Cook has a strong football IQ. O'Connell cited former Michigan State signal-callers Brian Hoyer, Drew Stanton and Kirk Cousins as players who moved onto the pro level, and he said that the MSU program "does a phenomenal job to get you ready for Sundays." He likes what Cook does pre-snap at the line of scrimmage, and he believes he plays very well in rhythm. He just needs to work on his touch on some of his throws.
Other notes
On Tulane QB Tanner Lee: O'Connell said he was "very very impressive" and is a "guy to keep an eye on as he grows."
On Utah State QB Chuckie Keeton: O'Connell said he is "maybe one of the more impressive guys at the quarterback position" and that he could "burst back onto the scene" after the ACL tear.
O'Connell said he was also impressed with the play of Taylor Kelly at Arizona State as well as Sean Mannion at Oregon State.
Dave Miller, the college football editor for the National Football Post, is on Twitter @Miller_Dave.