May 05, 2012 -
Dave Miller
Officials risk complicating a playoff system
Big Ten commissioner Jim Delany met with members of the media this past Wednesday in Chicago and discussed one possible way of determining a national champion in college football once a four-team playoff is implemented in 2014.
Delany said that a "conference champion only" model is being discussed that would include teams that won their leagues, but the squads would only qualify if they were ranked among the top six teams in the country.
For instance, if a team such as Alabama won the SEC and was among the top six teams in the rankings (perhaps a tweaked version of the current BCS standings), the Crimson Tide would automatically qualify for the playoff and be one of the top four ranked conference champs to qualify among the top six.
If there are less than four conference champs among the final top six, however, then the remaining spot or spots in the playoff would be filled by the highest ranked non-champ or, in the case of Notre Dame or BYU, an independent if that team is in the top six (So if Nos. 1, 2, and 6 are conference champs and Nos. 3, 4, and 5 are not, then Nos. 1, 2, 6 and 3 would qualify for a four-team playoff).
Of course, we already know that SEC commissioner Mike Slive wants the playoff participants to simply be the top four teams in the final rankings, the idea being those teams are the strongest no matter if it was a league champion.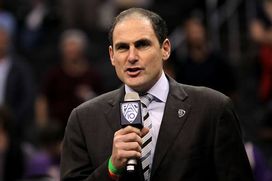 Pac-12 commissioner Larry Scott, like Big Ten boss Jim Delany, prefers the four-team playoff to include conference champs only.
Pac-12 commissioner Larry Scott, like Delany, prefers including conference champs only.
One of the bigger debates surrounding a future playoff system has been how to rank the teams and which squads would be eligible for a four-team model. I would prefer that the current BCS ranking system be tweaked to include other factors such as strength of schedule. Others, however, have suggested that using a selection committee would be the best option, and a committe is something that Delany said he prefers.
Revenue distribution among all of the conferences is also another issue, especially with the AQ and non-AQ statuses likely to be shed after 2013. At the meeting in Chicago, Delany wouldn't divulge any information when the revenue topic was broached. He did remain optimistic, however, that the new playoff model would be finalized in time to present it to the Presidential Oversight Committee for approval June 20 in Chicago.
If we take a look back and see how Delany's plan would have affected a few previous postseasons, 11-1 third-ranked Michigan would not have made a four-team playoff in 2006. That bid would have gone to Big East champion Louisville, which also was 11-1. Imagine the uproar in Ann Arbor if that had occured.
In 2008, No. 4 Alabama would not have advanced to a four-team playoff either because No. 2 Florida was the SEC champ, defeating the Crimson Tide in Atlanta. Nick Saban's squad would have been left out, along with No. 3 Texas, because No. 5 USC and No. 6 Utah were conference champs that year.
My fear is that the plan discussed by Delany is too complex for a sport that is already thriving. While I am not a proponent of anything more than a Plus-One, the fact is that a four-team playoff is on the horizon. Why toss around confusing proposals? Despite various factors to work through on our way to a playoff, why not try to make things as simple as possible by inviting the top four teams — conference champ or not — to the playoff? Doesn't a system lose some credibility if teams ranked Nos. 1-4 at the end of the year aren't the teams in a four-team playoff? Even if we have the two top-ranked conference champions and select two at-large teams, it still wouldn't top the alternative. Either way, we will still hear complaints about the teams occupying the No. 5 and No. 6 spots in a four-team playoff system. I would simply argue that the No. 3 and No. 4 teams have made stronger cases.
Whether or not the current BCS standings are tweaked or if a committee is put together to select the playoff teams, simplicity should be the general rule of thumb for these decision-makers. The current system is without a doubt a bit flawed. And change is coming. But if the BCS officials aren't careful, they can ruin what is already a pretty good thing — the best regular season in sports and a postseason that fuels unlimited discussion, for good or for bad.
Email dave.miller@nationalfootballpost.com or follow me on Twitter at Miller_Dave