November 29, 2011 -
Dave Miller
Ohio State hits a home run with Meyer hire
Two BCS national championships, a 7-1 record in bowl games and an .819 career win percentage.
Those are the numbers Urban Meyer brings with him to Columbus as Ohio State's new head football coach.
But perhaps most importantly, Meyer brings a renewed energy to a program that has faced a yearlong drama filled with NCAA violations, suspensions and harsh criticism directed at the athletic department. For the former Florida head coach, it's a dream job. And for OSU, it's winning the lottery.
The Ohio native, who five years ago claimed his first national championship against Ohio State while coaching the Gators, has won 104 games against just 23 losses over a 10-year career which has featured stops at Bowling Green, Utah and Florida. During those 10 seasons, he led his teams to 10-victory campaigns five times.
After a rough fall that featured just six victories, Ohio State fans have a bright future to look forward to with Meyer, who instantly brings credibility back to a program that had dominated the Big Ten under Jim Tressel. In four BCS bowl games, Meyer has never lost. And no team knows more about the BCS than the Buckeyes, who have appeared in more BCS games (nine) than any other program in the nation.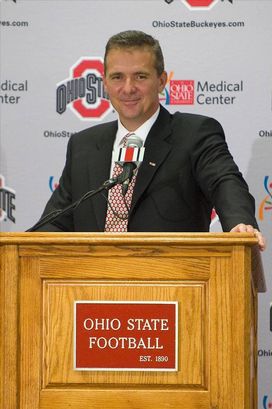 ICONUrban Meyer has compiled a 104-23 record in 10 seasons as a head coach.
Of course, despite Ohio State's 3-5 mark in conference play, the cupboard is not bare in Columbus.
Quarterback Braxton Miller possesses the necessary talent to thrive in Meyer's spread offense. Not only does the freshman have a good build to hold up against Big Ten competition, but he has a strong arm and the athleticism to make the best of Big Ten defenses vulnerable. He threw 11 touchdowns against four interceptions this fall while rushing for more than 100 yards in three of his final four games. And if he returns for his senior season, tight end Jake Stoneburner could thrive because Meyer loves to utilize his tight ends. And while he isn't as athletic as former Gator and current New England Patriot Aaron Hernandez, Stoneburner can still be a mismatch for linebackers and safeties in the passing game.
What Meyer will have to do is find some new playmakers, especially with running back Boom Herron and receiver DeVier Posey moving on. Ohio State really showed its lack of dynamicism at the skill positions when Herron and Posey were sidelined because of suspension, so who could emerge as playmakers in 2012? Spring ball will be huge for Meyer to asses his team and to determine if Devin Smith, Corey Brown and Verlon Reed could provide consistency at receiver. And expect this February's recruiting class to feature at least a couple of intriguing athletic talents to pair up with true freshman receiver Evan Spencer.
Still, year one of the Meyer regime isn't going to result in a national title.
In Meyer's career, his teams have never finished below .500 in conference play. So the good news is the Buckeyes shouldn't expect any more 3-5 league marks. His teams also have improved by at least two games in his first season at each of his first three coaching stops. Year two, however, is when we'll really see his mark on the OSU program.
Offensive turnarounds in his second season have taken place at every one of his stops, after his unit gets acclimated to the new system in year one. With Miller being another year older, 2013 is when we'll see the full Meyer effect take place. Keep in mind that Meyer went undefeated in his second season at Utah and won his first BCS title in his second year at Florida.
But as there is with any new hire in any profession, there is some risk involved -- even when dealing with the most successful free agent coach on the college landscape.
The 47-year-old Meyer went 8-5 in his final season at Florida, and Will Muschamp struggled to coax six wins out of that inherited talent this fall. Meyer decided to leave his gig with the Gators when quarterback Tim Tebow's time was done in Gainesville, announcing his resignation because of health reasons only to change his mind the next day. Following a leave of absence to address his health issues, Meyer was back for spring practice and a disappointing 2010 season that left a bitter taste in the mouths of Gator Nation.
Meyer's "retirement" followed, the head coach stressing that he wanted to spend more time with his family. Perhaps we'll never know exactly why Meyer walked away from the Gators. Maybe he really did want to get away from the game. Or maybe he saw the struggles that were on the horizon for the Florida program -- disappointment created by not having a suitable quarterback to step in post-Tebow.
Ohio State clearly believes it is getting the Meyer who was at the top of his game before last season's mediocrity set in at UF. And a full season away from the game will likely pay dividends. He even admitted at Monday's introductory news conference that he missed coaching just two months after he retired.
But it will be interesting to see how Meyer balances his work, health and family life in Columbus. He said he won't let coaching consume him as it once did, a stressful endeavor that landed him in the hospital with chest pains after Alabama beat Florida in the SEC championship game in 2009. But is it easier said than done?
Still, if you're an Ohio State fan waking up this morning, you have to feel pretty good about the direction of your football program with Meyer at the helm.
You just have to hope he's in it for the long haul this time around.
Email dave.miller@nationalfootballpost.com or follow me on Twitter at Miller_Dave