May 30, 2013 -
Dave Miller
Ohio State's Gee embarasses himself once again
Ohio State president E. Gordon Gee was at it again.
The 69-year-old, who has made his share of controversial comments in the past, reportedly made derogatory comments about fans of the SEC and about Notre Dame at a meeting of the school's athletic counsel this past December.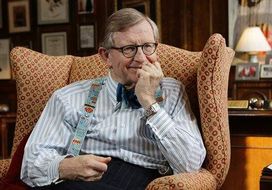 Ohio State president E. Gordon Gee is no stranger to controversial comments.
Here are some of the comments that Gee reportedly made during that meeting:
— When asked about how Ohio State should respond to SEC fans who say the Big Ten can't correctly count because the league will have 14 members in 2014 when Maryland and Rutgers join, Gee responded by saying, "You tell the SEC when they can learn to read and write, then they can figure out what we're doing."
— Another nugget on Big Ten expansion: Gee said that the conference made certain "that we have institutions of like-minded academic integrity…So you won't see us adding Louisville."
— Regarding Notre Dame, which has been linked to the Big Ten for numerous years but recently became a member of the ACC (partial member in football): "The fathers are holy on Sunday, and they're holy hell on the rest of the week," Gee said. "You just can't trust those damn Catholics on a Thursday or a Friday, and so, literally, I can say that."
These comments became public after the Associated Press made a public records request of the school's meeting. Gee has since apologized, noting that his comments were "just plain wrong and in no way reflect what the university stands for. They were a poor attempt at humor and entirely inappropriate."
Of course, if you remember, the bow-tied Gee told the AP in 2010 that schools such as Boise State didn't deserve to have a say in the BCS process because they didn't play tough enough schedules. "We do not play the Little Sisters of the Poor. We play very fine schools on any given day," Gee said. Gee also once openly hoped that former Buckeyes head coach Jim Tressel "wouldn't dismiss him." Yes, a school president saying that about the head football coach at his university.
Despite the fact that Gee is the president of an established major-conference university, he continues to put his foot in his mouth whenever he seemingly gets the chance.