June 02, 2011 -
Dave Miller
Ohio State's Gee: 'Gene Smith's job is safe'
Ohio State president Gordon Gee said Wednesday that he doesn't expect athletic director Gene Smith to go anywhere despite head coach Jim Tressel resigning amidst an NCAA investigation and continued allegations against the football program.
"Gene Smith's job is safe, yes," Gee declared.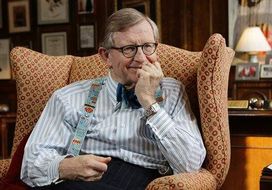 Gordon Gee in happier times.
Gee did tell Columbus-area reporters, however, that there is "a legitimate question" about how some confirmed violations occured and that the school's compliance office should be fixed if it's not running smoothly and effectively. The comments were Gee's first since the university announced Tressel's resignation on Memorial Day.
Gee acknowledged that he currently couldn't comment at length on the mess in Columbus on the advice of the school's attorneys, but he admitted that the events in the last few months were tough to bear and said it felt at times as if he were in the midst of a tsunami.
And while he has no plans to overhaul the school's compliance department, he said that campus officials will determine whether the department should have done more.
"Obviously, we're taking a look at our failures," he said.
Gee has received a lot of scrutiny because of his handling of the turmoil at OSU, including allowing the Buckeye Five to play in last season's Sugar Bowl and his infamous "I'm just hopeful the coach doesn't dismiss me" quote at the March 8 news conference, where the scandal truly began to unravel.
Email dave.miller@nationalfootballpost.com or follow me on Twitter at Miller_Dave