July 03, 2014 -
Dave Miller
Oklahoma adds former Missouri wide receiver Green-Beckham
Oklahoma head coach Bob Stoops announced on Thursday that former Missouri wide receiver Dorial Green-Beckham has joined the football program.
Under current NCAA rules, Green-Beckham can participate in team activities and be eligible to compete again in games starting in 2015. However, Jason Kersey of The Oklahoman reports that OU is pursuing a waiver to make him eligible for the 2014 season.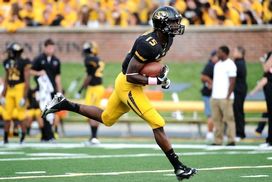 US PRESSWIREDorial Green-Beckham is headed to Norman.
The 6-6, 225-pounder spent two years at Missouri before getting kicked off of the team in April after he was indefinitely suspended for allegedly shoving a female down some stairs after forcing his way into an apartment. He was never charged, but Mizzou cut ties following those allegations and a few earlier arrests for marijuana possession.
Oklahoma was one of the major programs that had recruited the Springfield, MO, native out of high school.
It's interesting that the receiver is choosing the FBS route if he does indeed have to sit out a year. He could have chosen to go to an FCS school and then enter into the 2015 NFL Draft. One would have to wonder how the NCAA would grant him a waiver to play this year because he certainly hasn't gone through any hardship besides those of his own doing.
Green-Beckham caught 87 passes for 1,278 yards and 17 touchdowns in his career at Mizzou, including 12 touchdown catches in 2013 to tie for the SEC lead. He was named the national player of the year in 2011 by Parade Magazine after setting a national prep record with 6,353 career receiving yards and 75 touchdowns.
Dave Miller, the college football editor and writer for the National Football Post, is on Twitter @Miller_Dave.