March 06, 2011 -
Dave Miller
Oklahoma State spring practice preview
Oklahoma State kicks off spring practice on Monday trying to build off an 11-2 campaign in 2010.
Let's take a closer look at Mike Gundy's Cowboys as they get a jump on preparing for the 2011 season.
Oklahoma State (11-2, 6-2 Big 12 in 2010)
They're back for more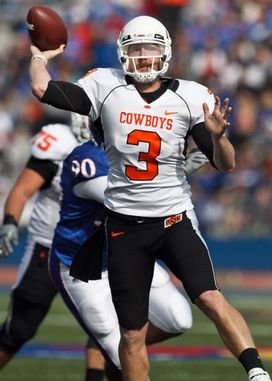 ICONBrandon Weeden returns to lead an explosive Cowboys offense.
Quarterback Brandon Weeden and wide receiver Justin Blackmon elected to return to Stillwater instead of declaring early for the NFL Draft, so expect the All-Big 12 performers to pick up where they left off in 2010. The 27-year-old Weeden threw for nearly 4,300 yards and 34 touchdowns last season — 20 of the scores going to Blackmon, who had at least one touchdown in every game he played as he racked up 1,782 receiving yards on 111 catches. I thought that the All-American Blackmon should have earned an invite to New York for the Heisman ceremony, but it must have been lost in the mail. Can he put up similar staggering numbers next fall? It seems crazy to think so, but Weeden is only going to get better so anything is possible.
No Holgorsen, no problem
While Dana Holgorsen is no longer running the offense, don't expect the unit led by Weeden to look much different. New coordinator Todd Monken will employ the same scheme, with the exception of some possible tweaks here and there. But Monken, along with new running backs coach Jemal Singleton and new receivers coach Kasey Dunn, will essentially be learning as much as teaching this spring. While he is expected to transition nicely into his new role, it will be interesting to see how Monken, the former receivers coach with the NFL's Jacksonville Jaguars who previously coached under Les Miles in Stillwater, handles his first coordinator job. But inheriting an offense that ranked second in the nation in passing and third in scoring should make that transition much easier.
Who will replace Kendall Hunter?
Perhaps the most undervalued running back in the nation last season was Kendall Hunter, who recorded over 1,500 yards and 16 touchdowns following his injury-riddled 2009 campaign. He was the toast of the nation in 2008 but fell off the radar after being hurt. However, he was as valuable as Weeden and Blackmon last year. Sophomore Joseph Randle and Jeremy Smith will compete to take over starting duties.
A steady offensive line returns intact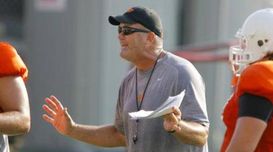 One of the best in the business, Joe Wickline.
All five starters return on the offensive line for the Cowboys, led by right tackle Levy Adcock, who earned All-Big 12 honors after not allowing a sack during his first season as a starter. The scary part about this unit is that it has incredible depth because Gundy has had a nice run of bringing in linemen in his recent recruiting classes. And with Joe Wickline coaching them up, it's going to be awfully difficult for opposing defenses to generate any type of pressure against this Cowboys front. Weeden was only sacked eight times last year because of this line, which has become the unsung hero of the offense. The Cowboys led the Big 12 in rushing from 2006-09, and the unit allowed only 10 sacks in total last season, the lowest in the conference. It's no wonder why Wickline recently received a raise.
Keep an eye on
Bill Young will be looking for playmakers on his defense. These are some names to watch, particularly in the team's spring game on April 16.
Cornerback Devin Hedgepeth, who finished with 26 tackles after playing in all 13 contests in 2010. He is likely to replace All-Big 12 cornerback Andrew McGee.
Linebacker Caleb Lavey, who could be leaned on to replace All-Big 12 player Orie Lemon. The 6-2, 231-pounder has good athleticism and played well when he was healthy in spot duty down the stretch.
Safety Daytawion Lowe, who missed the 2010 season after shoulder surgery. The 6-1, 190-pounder was a former track star in high school and could emerge as an impact defender.
Want to relive the Cowboys' 2010 season? Check out the highlights, courtesy of OSUathletics.
Email dave.miller@nationalfootballpost.com or follow me on Twitter at Miller_Dave