November 22, 2010 -
Dave Miller
One hell of a day at Wrigley
As soon as you stepped out of your home and onto the street, you felt the buzz. Young and old, football-savvy and football-ignorant, Chicagoans were energized for the historic Northwestern-Illinois game at Wrigley Field Saturday afternoon.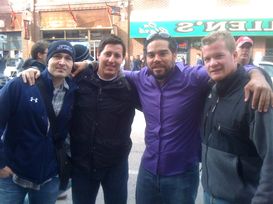 iPhoneFormer Northwestern running back great Darnell Autry.
The game wasn't the closest of Big Ten contests — the Illini raced out to 14-0 and 21-7 leads and throttled the Wildcats 48-27 behind Mikel Leshoure's school-record 330 yards and two touchdowns. But the atmosphere was festive and electric, with fans and alumni from both schools ecstatic to receive national attention for a rivalry that doesn't get recognized too often across the country.
The Big Ten rivals matched up in the first football game in 40 years at the historic ballpark — the NFL's Bears left for Soldier Field following 1970 and the last college game there was in 1938 when DePaul and St. Louis met — and not even the use of just one end zone could detract from the game's pageantry.
Before the game, I was pleased to run into good buddy Darnell Autry, the former NU running back who helped lead the Wildcats to the Big Ten championship and 1996 Rose Bowl in his sophomore campaign. Autry finished fourth in that year's Heisman Trophy race and appeared on the cover of Sports Illustrated after a win against Penn State.
The only down side to the day was when I arrived in the press box and saw that I had been seated in the dining room — without a view of the actual field. There was a plasma TV, and that was essentially a stand-in to seeing the live action in person. So obviously I was a little peeved, although I felt lucky to have the credential because there were a lot of other members of the national media who couldn't attend because of limited space.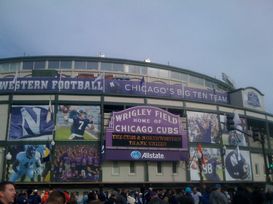 iPhoneWrigley Field was decked out in purple as the Wildcats' home for a day.
After downing a surprisingly good burger and hot dog with the works, it was time to make a play. I couldn't just watch on television.
So I darted downstairs and headed for the right field bleachers. Lucky for me it was the NU student section, and let's just say that the Wildcat co-eds brought their 'A' game.
For three-plus hours at Wrigley Field, I was back in college.
Fast forward to 1 a.m. local time Sunday morning, and my 14-hour day in Chicago's Wrigleyville neighborhood sadly had to come to an end. Despite it being the wee hours of the morning, the party was just beginning at Sluggers bar.
Just another Saturday in Wrigleyville? Perhaps. But even the casual fan has to admit that the neighborhood was even more electric than usual with the old ballpark hosting such a historic event.
Email dave.miller@nationalfootballpost.com or follow me on Twitter at Miller_Dave