November 19, 2010 -
Dave Miller
Only one end zone to be used at Wrigley for NU-Illinois
The Northwestern-Illinois game Saturday afternoon at Wrigley Field just became even more intriguing.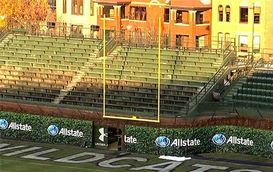 The infamous end zone at Wrigley Field.
Due to safety concerns, only one end zone will be in use for the game between the Wildcats and Fighting Illini, Illinois sports information director Kent Brown said Friday on ESPN 1000's "The Waddle & Silvy Show."
The much-discussed east end zone at the stadium is mere feet away from the right-field wall, and there were concerns that injuries could take place despite having padding on the wall.
Wildcats head coach Pat Fitzgerald had stated that he would have different game plans while driving toward each end zone to avoid the possibility of injury. With this news, however, that is no longer necessary.
Whichever team is on offense will now be positioned to head to the west end zone.
"A decision was made with both coaching staffs and the athletic directors of both schools and the [Big Ten] commissioner to start every possession and go west," Brown said on the morning sports talk show. "Student-athlete safety concerns is first and foremost."
Email dave.miller@nationalfootballpost.com or follow me on Twitter at Miller_Dave