November 27, 2010 -
Dave Miller
Oregon, Auburn on collision course toward BCS title game
Sure, Oregon could still lose next week in the Civil War against Oregon State in Corvallis. And Auburn could potentially falter in the SEC championship game to South Carolina.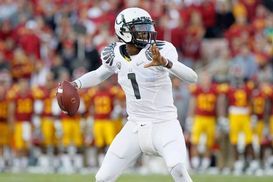 ICONDarron Thomas and the Ducks pulled away from Arizona in the second half on Friday night.
But after Friday's feast of games, could we really envision anyone else playing for the BCS national championship other than the Ducks and Tigers?
Oregon, led by three touchdown passes and another on the ground from Darron Thomas, earned at least a share of a second straight Pac-10 title with a 48-29 victory over Arizona on Friday night. LaMichael James ran for 126 yards and two scores on the ground as the Ducks rallied from a 19-14 halftime deficit to pull away in the second half and withstand a career-high 448-yard effort from Arizona quarterback Nick Foles.
However, it was Auburn — with an eligible Cam Newton — that truly stole the post-Thanksgiving show, rallying from a 24-0 deficit to shock Alabama 28-27 in Tuscaloosa. No matter how bad the Tigers look at times on defense, all they do is win. And despite the Head Ball Coach and South Carolina giving Gene Chizik's squad all it could handle earlier in the season, it's hard not to argue that we saw the two best teams in the nation prove their supremacy once again on the field on Friday.
I have had Boise State consistently in the Top 2 all season long in the NFP Top 25 — and No. 1 after Alabama fell to South Carolina — but it just looks like the Broncos will come up short once again in their quest to play for a national title no matter what happens Friday night at Nevada. For the record, at the time of this posting, the Broncos lead the Wolf Pack 24-7 at the half.
For what it's worth Boise fans, I still think the Broncos could beat Oregon and Auburn in a one-game scenario. I just don't think, with the body of work for the Ducks and Tigers, that Boise can be ranked above either one.
So, if it is Oregon and Auburn playing for the BCS national championship, who ya got NFP Nation?
Here are the results of Friday's other contests:
Louisville 40, Rutgers 13
Kent State 28, Ohio 6
West Virginia 35, Pittsburgh 10
Northern Illinois 71, Eastern Michigan 3
SMU 45, East Carolina 38 (OT)
Western Michigan 41, Bowling Green 7
Akron 22, Buffalo 14
Toledo 42, Central Michigan 31
Nebraska 45, Colorado 17
Arizona State 55, UCLA 34
Tulsa 56, Southern Miss 50
Email dave.miller@nationalfootballpost.com or follow me on Twitter at Miller_Dave