October 17, 2010 -
Dave Miller
Oregon claims No. 1 ranking in new AP Top 25
Oregon ascended to the top spot in this week's Associated Press Top 25 poll for the first time in school history, moving up after Ohio State lost 31-18 at Wisconsin on Saturday night.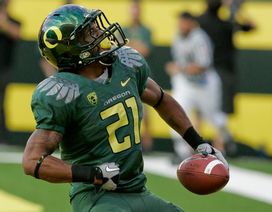 ICONLaMichael James and the Ducks are the AP's new No. 1 team.
Oregon is the 43rd team to hold the No. 1 spot in the AP poll, which dates to 1936. The last time a team was No. 1 for the first time was 20 years ago, when Virginia rose to No. 1 on Oct. 14, 1990.
Ohio State's loss came a week after then-No. 1 Alabama was beaten by South Carolina. Oregon will try to avoid becoming the third straight No. 1 team to lose when it hosts UCLA on Thursday night.
Here is a look at the complete poll.
And don't forget that the new NFP Top 25 will be posted late Monday afternoon.
AP Top 25 Poll
1. Oregon (6-0)
2. Boise State (6-0)
3. Oklahoma (6-0)
4. TCU (7-0)
5. Auburn (7-0)
6. LSU (7-0)
7. Alabama (6-1)
8. Michigan State (7-0)
9. Utah (6-0)
10. Wisconsin (6-1)
11. Ohio State (6-1)
12. Stanford (5-1)
13. Iowa (5-1)
14. Nebraska (5-1)
15. Arizona (5-1)
16. Florida State (6-1)
17. Oklahoma State (6-0)
18. Missouri (6-0)
19. South Carolina (4-2)
20. West Virginia (5-1)
21. Arkansas (4-2)
22. Texas (4-2)
23. Virginia Tech (5-2)
24. Mississippi State (5-2)
25. Miami (FL) (4-2)
Email dave.miller@nationalfootballpost.com or follow me on Twitter at Miller_Dave