October 24, 2010 -
Dave Miller
Oregon remains at No. 1 in new AP Top 25
Fresh off its 60-13 romp over UCLA last Thursday night, Oregon remained the top team in the new Associated Press Top 25 poll released Sunday.
Meanwhile, Auburn moved up two spots to No. 3 after its win over LSU Saturday. Boise State remained at No. 2 after having this past weekend off.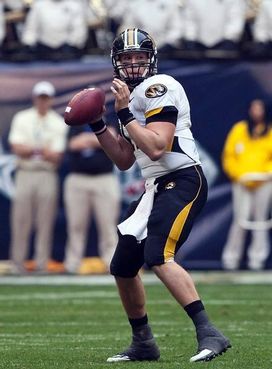 ICONBlaine Gabbert and the Tigers are on the move up the rankings.
The big move in the poll came from Missouri, which jumped 11 spots to No. 7 after the Tigers knocked off Oklahoma in Columbia.
Oregon received 44 first-place votes, Boise State had 11, Auburn received three and No. 4 TCU received two.
Here is a look at the complete poll.
And don't forget that the new NFP Top 25 will be posted late Monday afternoon.
AP Top 25 Poll
1. Oregon (7-0)
2. Boise State (6-0)
3. Auburn (8-0)
4. TCU (8-0)
5. Michigan State (8-0)
6. Alabama (7-1)
7. Missouri (7-0)
8. Utah (7-0)
9. Wisconsin (7-1)
10. Ohio State (7-1)
11. Oklahoma (6-1)
12. LSU (7-1)
13. Stanford (6-1)
14. Nebraska (6-1)
15. Arizona (6-1)
16. Florida State (6-1)
17. South Carolina (5-2)
18. Iowa (5-2)
19. Arkansas (5-2)
20. Oklahoma State (6-1)
21. Virginia Tech (6-2)
22. Miami (FL) (5-2)
23. Mississippi State (6-2)
24. USC (5-2)
25. Baylor (6-2)
Email dave.miller@nationalfootballpost.com or follow me on Twitter at Miller_Dave